Main content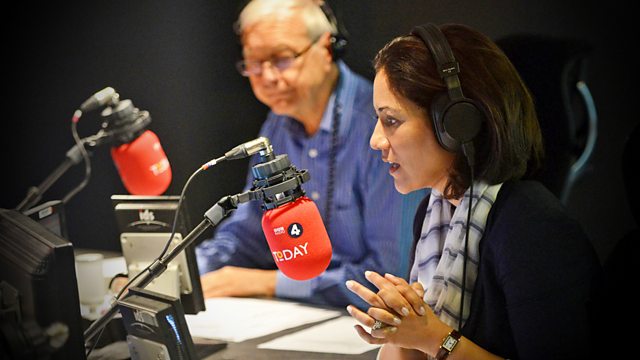 08/12/2015
Morning news and current affairs. Includes Sports Desk, Yesterday in Parliament, Weather and Thought for the Day.
Clips

Today's running order
0650
A hospital trust in Kent has apologised for placing a "Do Not Resuscitate" order on a patient with Down's Syndrome. The family of the man were not consulted or informed about the notice in his medical records. Speaking on the programme is Jane Dreaper, the BBC's health correspondent.
0655
Buzzfeed claims to have seen documents which reveal that the National Crime Agency's system for detecting money laundering and terrorist financing is not fit for purpose. Speaking on the programme is Keith Vaz, chair of the Home Affairs Select Committee.
0710
The Fatal Accident Inquiry into the Glasgow bin lorry crash has recommended that the secretary of state for sransport should instigate a consultation on whether it is appropriate that doctors should be given greater freedom, by the General Medical Council, or an obligation, by Parliament, to report fitness to drive concerns directly to DVLA. Dr Philippa Whitford MP is SNP parliamentary health spokesperson and member of the health select committee.
0715
The government is putting off a final decision on expanding Heathrow until the airport can demonstrate its ability to meet pollution targets. Carolyn Fairbairn is director-general of the Confederation of British Industry.
0720
Bodybuilder, movie star and former governor of California Arnold Schwarzenegger says people should have one or two meat-free days a week to help combat climate change. Mr Schwarzenegger has been speaking to the BBC's Environment analyst Roger Harrabin in Paris where he was attending the UN climate conference.
0730
A report has found that only three police forces in England and Wales are fully prepared to deal with honour-based violence, forced marriage and female genital mutilation - crimes committed in order to protect supposed cultural and religious beliefs. Jasvinder Sanghera is a survivor of forced marriage and founder of Karma Nirvana, a support group for victims of honour crimes and forced marriages; joining us here is Wendy Williams, HM Inspector of Constabulary.
0740
US rock band Eagles of Death Metal have appeared on stage in Paris, less than a month after deadly attacks during their performance at the Bataclan in the French capital. David Chazan is the Paris correspondent for the Daily Telegraph – he was at the gig.
0750
Republican presidential candidate Donald Trump has called for a "total and complete" halt to Muslims entering the US, in the wake of the deadly California shootings. Kate Andrews is spokesperson for Republicans Overseas.
0810
Thousands of people have been flooded out of their homes or left without power after Storm Desmond wreaked havoc in parts of the UK. The BBC's Ben Ando reports, and we hear live from Elizabeth Truss the secretary of state for Environment, Food and Rural Affairs.
0820
When Vladimir Putin ordered air strikes in Syria, he promised the air campaign would make Russians safer. Are Russians beginning to doubt President Putin's decision? The BBC's Moscow correspondent Steve Rosenberg drove two hours north of Moscow to find out how Russians view their president.
0830
Devastated families are being left without answers as avoidable death and harm incidents aren't being investigated properly by hospitals across England. Speaking on the programme is Dame Julie Mellor, Parliamentary and Health Service Ombudsman.
0835
The road Haulage Association says the closure of the Forth Road Bridge is costing the industry £600k a day. Martin Reid is director of the Business Unit North at the Road Haulage Association.
0840
A French scientist analysing Leonardo da Vinci's painting, The Mona Lisa, claims he has found another portrait of a different woman underneath, prompting controversy in the art world. The BBC's Roya Nikkhah has been to Paris to investigate.
0845
Despite Scotland Yard originally saying they were treating Saturday night's incident at Leytonstone Underground station as an alleged "terrorist incident", the suspect now stands accused of attempted murder. So what is a terror attack? Nazir Afzal is former Chief Crown Prosecutor for North West England and David Brax is a post doctorial researcher at the Centre for European Research, the University of Gothenburg.
0850
Thousands of people have been flooded out of their homes or left without power after Storm Desmond wreaked havoc in parts of the UK. Speaking on the programme is George Monbiot, environmental campaigner and Guardian columnist and Meurig Raymond is president of the National Farmers' Union.
All subject to change.