Main content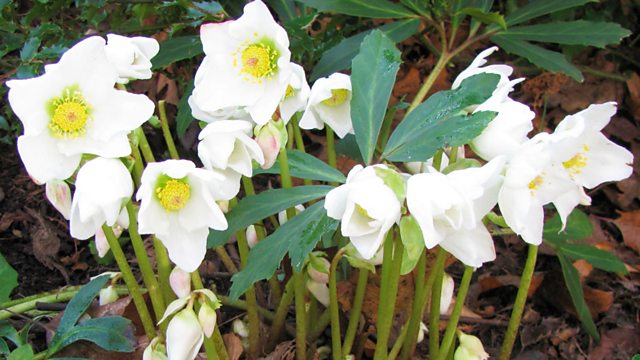 New North London Synagogue
Eric Robson hosts the horticultural panel programme from the New North London Synagogue. Chris Beardshaw, Matt Biggs and Anne Swithinbank answer the gardening queries.
Eric Robson hosts the horticultural panel programme from the New North London Synagogue.
Chris Beardshaw, Matt Biggs and Anne Swithinbank answer this week's gardening questions, on matters including trampolines, horse manure, and leaf-blowers - to blow or not to blow?
Chris Beardshaw takes a turn round Rabbi Jonathan Wittenberg's garden to discuss the history and purpose of faith gardens.
Also, RHS Wisley's Matthew Pottage aims to convince James Wong that conifers can be exciting.
Produced by Dan Cocker
Assistant Producer: Hannah Newton
A Somethin' Else production for BBC Radio 4.
Last on
Questions and Answers
Q – Do the panel condone the use of leaf blowers or should they leave them where they fall?

Chris – I can't imagine using a leaf blower.  I can't believe that as soon as Autumn comes and you get the Anthancynins and the Xanthophylls that give you the flush of autumn colours some people are out with their leaf blowers before they've even started to fall!  Also, you shouldn't be too diligent with your leaf clearing in general – on borders and beds most leaves (not heavy things like Beech or Sycamore) they will rot very quickly and are beneficial to the soil.

Q – One of the crops that I love to grow is Jerusalem Artichokes – how long is the harvesting season?

Chris – Start after the first frost when the plant has started to close down and has retracted below ground and is nestling in the soil then it's at its best.  But you can keep it going right through the winter months and keep lifting right through into spring.  Don't lift once it has started to shoot again as it will go quite woody.  Don't scrub them either – give them a quick wash, nothing too much more.

Q – We are keen allotmenteers and, over time, so have our children become – including my four-year-old grandson.  I am the chief digger and it's got me thinking about alternative methods.  What is the panel's view on the 'no dig' system for allotmenteering and vegetable growing?

Anne – I'm mostly 'no dig' these days – the key is to make sure that you spread your well-rotted organic matter in a layer over the soil before Christmas so it has a chance to rot down into the soil and break down more.  You can start 'no dig' on virgin ground but I haven't tried it myself.  
Matt – If you're on London clay I would put about 4-5inches (10-12.5cm approx.) on top like icing a cake and then the worms will do the digging for you.  I would grow leafy crops in there.  Then once the clay and the organic matter have had time to come together I would start to think about root crops.  Go for stump rather than long-rooted to begin with.  

Q – With the popularity of trampolines in gardens what can the panel suggest to plant underneath?

Anne – you could grow Ferns…
Matt – …or Ivy… but not much else!

Q – I am lucky enough to receive a supply of free horse manure and straw from a nearby riding school – can I dig it in straight away or should I leave it on the ground until next year?
Chris – It's important to allow the manure to rot down to the point where you can plunge your hands into it and it crumbles away.  It shouldn't be heavy/slimy and there shouldn't be any straw still evident in it.  The inner will be ready before the outer part (due to heat/exposure) – so cut the top off the pile, use what's in the middle first – and then keep turning the pile in on itself.
Manure is far too rich to apply directly.

Q – I've had fairly good results growing Gladiolus byzantinus in my garden.  However, standard, larger Gladioli rarely come to much, if anything.  My garden soil is quite poor but persistent care and composting has helped a bit but what more can I do?
Anne – Gladiolus all need well drained soil and enriched soil with well-rotted manure to keep them happy.

Matt – Gladiolus papilio 'Ruby' is a lovely plant to go with the byzantinus.  Also, the Flevo varieties have really funky colours.  Grow successionally (end of March – May/June) then you'll get a succession of flowers through the year.


Q – What's the best way to grow Brussel Sprouts in a raised bed?

Matt – Sprouts like a heavy soil and a firm seedbed to grow well – which might be tricky in a raised bed.  They need plenty of water and be careful not to over feed – a boost of nitrogen halfway through growth is enough.  
Anne – Try using dwarf cultivars if you can.  Also, sow in April/May and planting out June/July.

Q – Is there any way that I can permanently get rid of Jasmine that has taken over our garden without my husband knowing?!

Anne – Some would suggest using glyphosate to kill off the suckers.  It'll be tricky to dig it out without him noticing but that is another option.
Chris – It'll take a lot of hard work to dig it out of the ground – they root wherever they go really.  
Broadcasts