Main content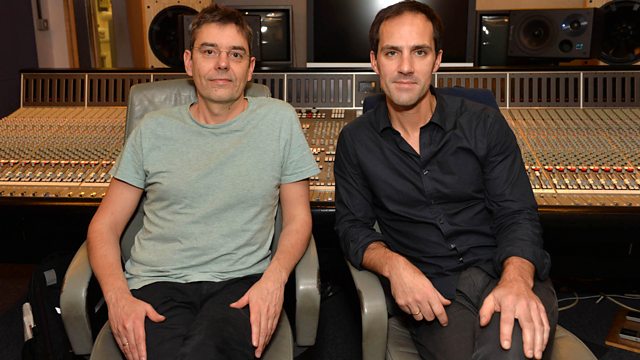 Thomas Stronen and Hilmar Jensson
Fiona Talkington introduces this month's Late Junction Collaboration Session featuring Norwegian drummer Thomas Stronen and Icelandic guitarist Hilmar Jensson, recorded as part of Radio 3's Northern Lights season.
Last on
Music Played
Xabier Díaz

Xota delire

Performer: Xabier Díaz. Performer: Adufeiras de Salitre.

The Tambourine Man.
http://xabierdiaz.com/.
1.

múm

Don't Be Afraid, You Have Just Got Your Eyes Closed

Finally We Are No One.
FatCat Records.

Sam Amidon

,

Shahzad Ismaily

&

Nico Muhly

How Come That Blood

I See The Sign.
Bedroom Community.
1.

Kippi Kaninus

A Soft Living Thing

Happens Secretly.
Painful Lust.
3.

Trad

Three Katajjait From Baffin Land

Performer: Elijah Pudloo Mageeta. Performer: Napache Samaejuk Pootoogook. Performer: Qaunak Martha Meekeega.

Inuit Games And Songs / Chants Et Jeux Des Inuit Canada.
UNESCO Collection of Traditional Music of the World.
1.

Philip Glass

Voices For Didgeridoo And Organ: Song 3

Performer: Mark Atkins.

Voices For Didgeridoo And Organ / Organ Suite.
Orange Mountain Music.
3.

Trad

Villemann Og Magnhild

Music Arranger: Linn Andrea Fuglseth. Ensemble: Trio Mediæval.

Arve Henriksen

&

Terje Isungset

Looking Through

Trad Montana

Girls' Game

Performer: Matee. Performer: Angutnak.

The Eskimos Of Hudson Bay And Alaska.
Folkways.
8.

Tanya Tagaq

Qiujaviit

Sinaa.
Jericho Beach Music.
4.

Stian Westerhus

&

Sidsel Endresen

Boom Boom

Bonita.
Rune Grammofon.
4.

Wganda Kenya

El Lobo

Palenque Palenque: Champeta Criolla & Afro Roots In Colombia 1975-91.
Soundway.
18.

Solveig Slettahjell, Knut Reiersrud & In The Country

Sometimes I Feel Like A Motherless Child

Frank Stokes

How Long

The Rough Guide To The Blues Songsters.
Rough Guide.

Jan Garbarek

Viddene

Performer: Jan Garbarek. Performer: Ralph Towner. Performer: Windharp.

Gonimoblast

Extract from Gonimoblast with Maja Ratkje recorded 26th November 2015

Performer: Gonimoblast. Performer: Maja Ratkje.

Michael c.1571-1621) Praetorius

Det är en ros utsprungen

Performer: Allmänna Sången. Performer: Cecilia Rydinger Alin. Music Arranger: Jan David Sandström.

Candlelight Carols.
BIS.
6.

Bugge Wesseltoft

It's Snowing On My Piano

It's Snowing On My Piano.
ACT.
1.
Broadcast

Late Junction – the 10 most genre-defying albums of the year
Is the synth the ultimate feminist instrument?