Main content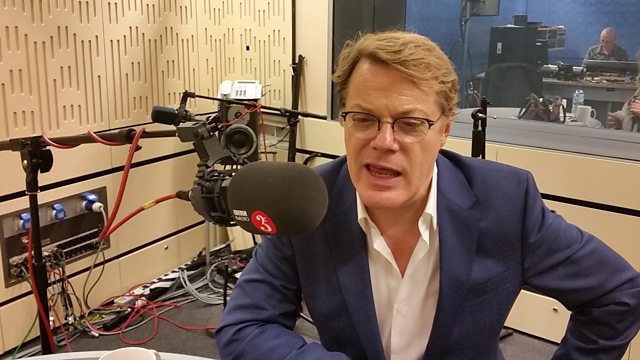 Thursday - Sarah Walker, plus Rob Cowan with guest Eddie Izzard
With Sarah Walker. Including Five Reasons to Love Nordic Song; Eddie Izzard; Music in Time: Bach: Passacaglia and Fugue in C minor; Nordic recordings: Nielsen: Symphony No 2.
Discover definitive recordings of the greatest classical music with your trusted guide, Sarah Walker. Plus Rob Cowan talks to the comedian Eddie Izzard.
9am
A selection of music including '5 reasons to love... Nordic song'. As part of Radio 3's Northern Lights season Sarah shares a selection of Nordic songs, showcasing their lyrical beauty, sense of melancholy and nostalgia, the way they celebrate nature, and the dramatic stories that they tell. Sarah hears from singers including Camilla Tilling, Anne Sofie von Otter and Anders Andersson as she explores these vocal works from the frozen North.
9.30am
Take part in our daily musical challenge: can you work out which two composers are associated with a particular piece?
10am
Rob talks to Eddie Izzard. Comedian, actor and multiple marathon runner, Eddie is one of the foremost stand-ups of his generation and has entertained audiences the world over. Eddie's epic Force Majeure tour, which he has toured around 28 countries (and performed in four languages), will be coming to London next year. Eddie spills the secrets of his unique brand of humour, and shares a selection of his favourite classical music, every day at 10am.
10.30am
Sarah places music in time as she travels back to the Baroque to hear Bach's definition of a passacaglia - his Passacaglia and Fugue in C minor.
11am
Sarah features recordings of major works by leading Nordic composers. Throughout the week Sarah travels through Finland, Norway, Denmark and Sweden as she shares a selection of music by Crusell, Sibelius, Grieg, Nielsen and Stenhammar.
Nielsen
Symphony No. 2, Op. 16 'The Four Temperaments'
San Francisco Symphony
Herbert Blomstedt (conductor).
Music Played
5 Reasons to Love... Nordic Song

Eddie Izzard's Choice No. 1

Eddie Izzard's Choice No. 2

Nordic Masterpiece
By Association
Answer: Johann Strauss II & Arnold Schoenberg
The music played:
Johann Strauss II (arr. Schoenberg)
Roses from the South, Op.388
Boston Symphony Chamber Players
DG