Main content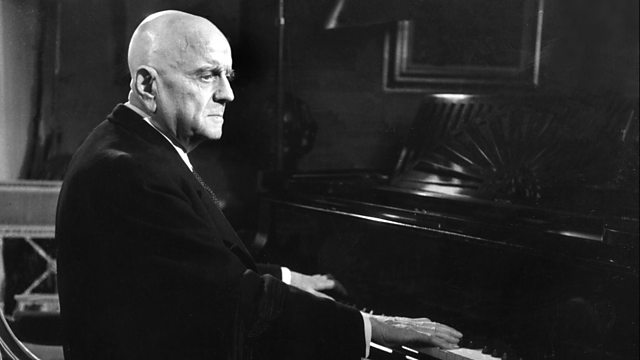 Donald Macleod introduces Sibelius's most controversial political work, the March of the Finnish Jaeger Battalion, and what is maybe his greatest symphonic statement: Symphony No 5.
Donald Macleod introduces Sibelius's most controversial political work - plus perhaps his greatest symphonic statement.
150 years after he was born, Jean Sibelius remains the most famous and important artistic figure in Finland's history, and indeed, their most famous celebrity in any field. His music helped rouse the Finnish people and galvanise their struggle for independence - and yet, the long life of this proud Finn (he lived to the age of 91) is a mass of contradictions. At home, Sibelius spoke Swedish, the language of his childhood, and it's often forgotten he was a Russian citizen until he was 52. This week, and in conversation with the Sibelius scholar Glenda Goss, Donald Macleod explores the key musical works by Sibelius that helped articulate the idea and essence of Finnish identity.
Despite his role as the torch-bearer of Finnish nationalism, Sibelius rarely ventured into nakedly political musical statements...with one highly-controversial exception. Donald Macleod explores his tubthumping "March of the Finnish Jaeger Battalion", a public statement written at the height of the First World War that sounds jarring even a century on. The programme also presents a rare opportunity to hear from the original version of Sibelius's symphonic masterpiece, his Fifth Symphony, plus his last works based on the great collection of Finnish national poetry, the Kalevala, the late cantata "Vainon Virsi" and the eerie tone poem "Tapiola".
Jääkärimarsi, Op.91 (March Of The Finnish Jäger Battalion)
YL Male Voice Choir
Symphony no.5 (original version of 1915): Movts. 1 & 2
Lahti Symphony Orchestra
Osmo Vänskä, conductor
Vainon Virsi (Vaino's Song)
Finnish National Opera Chorus
Helsinki Philharmonic Orchestra,
Eri Klas, conductor
Tapiola
Helsinki Philharmonic Orchestra
Leif Segerstam, conductor
Finlandia-Hymni
Dominante Choir
Seppo Murto, conductor
First broadcast in December 2015 as part of BBC Radio 3's "Northern Lights" season.
More episodes
Next
You are at the last episode