Main content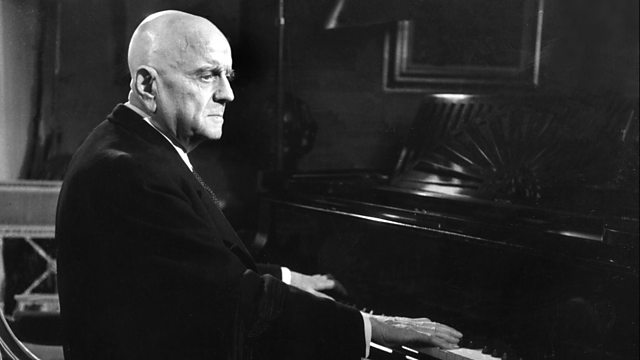 Donald Macleod focuses on Sibelius's most famous musical celebration of the Finnish people, Finlandia, before exploring the composer's early life growing up in a provincial town.
Donald Macleod explores how Jean Sibelius's music helped bring the nation of Finland into being.
150 years after he was born, Jean Sibelius remains the most famous and important artistic figure in Finland's history, and indeed, their most famous celebrity in any field. His music helped rouse the Finnish people and galvanise their struggle for independence - and yet, the long life of this proud Finn (he lived to the age of 91) is a mass of contradictions. At home, Sibelius spoke Swedish, the language of his childhood, and it's often forgotten he was a Russian citizen until he was 52. This week, in conversation with the Sibelius scholar Glenda Goss, Donald Macleod explores the key musical works by Sibelius that helped articulate the idea and essence of Finnish identity.
The week begins with Sibelius's most famous musical celebration of the Finnish people, "Finlandia", before Donald Macleod explores the composer's early life growing up in the provincial town of Hameenlinna, contrasting them with two of his last - and strangest - musical works. We hear from Sibelius's much-loved Violin Concerto, and his vast choral fresco "Kullervo" - his earliest and most radical setting of Finland's national poetic epic, the Kalevala, in which he sets the Finnish language for the first time.
Finlandia
Berlin Philharmonic
Herbert von Karajan, conductor
Hymn; Ode to Fraternity (Masonic Funeral Music, Op.113)
Hannu Jurmu, tenor
YL Male Voice Choir
Harri Viitanen, organ
Matti Hyökki, conductor
Violin Concerto: II. Adagio di molto; III. Finale
Sergei Khachatryan, violin
Sinfonia Varsovia
Emmanuel Krivine, conductor
To My Beloved
Folke Gräsbeck, Peter Lonnqvist, piano duet
Kullervo Symphony: V. Kullervo's Death
London Symphony Chorus
London Symphony Orchestra
Sir Colin Davis, conductor
First broadcast in December 2015 as part of BBC Radio 3's "Northern Lights" season.
More episodes
Previous
You are at the first episode