Main content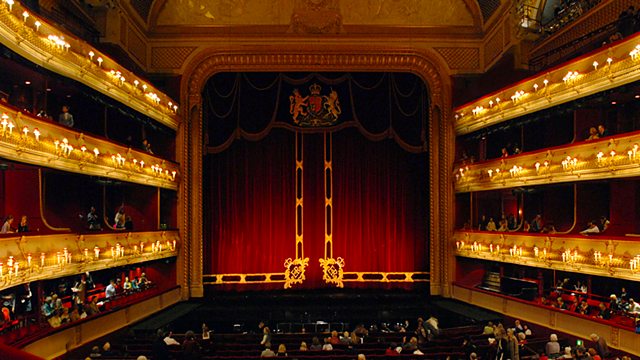 Haas's Morgen und Abend
From the Royal Opera House, Covent Garden, the world premiere of Georg Friedrich Haas's Morgen und Abend, featuring celebrated actor Klaus Maria Brandauer. Michael Boder conducts.
Austrian composer Georg Friedrich Haas's new commission Morgen und Abend - Morning and Evening - recorded at the Royal Opera House, Covent Garden, and starring the great actor Klaus Maria Brandauer with the Chorus and Orchestra of the Royal Opera House conducted by Michael Boder. The opera follows a day in the life of a fisherman called Johannes, sung by German baritone Christoph Pohl, who slowly realises that he has died. Haas has based his new work on a novel by Norwegian writer Jon Fosse, and this world premiere is directed by Graham Vick. Haas's musical language is characterised by soundscapes, and as he describes is "not based on notated structures, but only on the perception of the sound." Ivan Hewett introduces the opera, and the broadcast features interviews with the composer and the director Graham Vick.
Signe/Midwife ..... Sarah Wegener (soprano)
Johannes ..... Christoph Pohl (baritone)
Erna ..... Helena Rasker (contralto)
Peter ..... Will Hartmann (tenor)
Olai ..... Klaus Maria Brandauer (actor)
Chorus and Orchestra of the Royal Opera House, Covent Garden
Michael Boder (conductor).
Synopsis
The Story begins...
A man waits for the birth of a child. Many years later that same child, Johannes, now an old man, finds his world has changed: he meets his wife and best friend, who have both passed away, and can no longer communicate with his beloved daughter. Gradually, he realises what is happening.
- (c) Royal Opera House, Covent Garden. 
Georg Friedrich Haas & Jon Fosse
Georg Friedrich Haas
Georg Friedrich Haas was born in 1953 in Graz, in the east of Austria. His childhood was spent in the mountainous province of Vorarlberg, on the Swiss border. To study music, Haas returned to his native city where his professors were Gösta Neuwirth and Ivan Eröd.
Later, he continued his studies in Vienna with Friedrich Cerha. Georg Friedrich Haas is known and respected internationally as a highly sensitive and imaginative researcher into the inner world of sound. Most of his works (with the notable exception of the Violin Concerto of 1998) make use of microtonality. In each new work, Haas enters uncharted territory, but his music is firmly rooted in tradition.
Haas speaks openly of the years of 'total failure' in trying to make his mark as a composer – another experience to leave its imprint on his development, aggravating his pessimistic leanings. It is no wonder, then, that night, darkness, the loss of illusions should have played such an important role in Haas's oeuvre (such as in his Hölderlinopera Nacht, 1995/1998). It was not until quite recently that his music has been illuminated by light. Light effects, as integral components of a range of his compositions, have featured prominently for quite some time now, with the effects designed by artists specially for the music. (Examples include in vain (2000), and particularly Hyperion, a Concerto for Light and Orchestra, also written in 2000.) However, Haas's interest in light as opposed to darkness first emerged as late as 2006 in Sayaka for percussion and accordion, as well as in the piano trio Ins Licht (2007).
The Cello Concerto of 2004 (as with Wer, wenn ich schriee, hörte mich… (1999), for percussion and ensemble) reflects Haas's political commitment and his bitter realization of his helplessness as a composer: there is no way his music could serve to better the world. The percussion concerto was written at the time of the Balkan War; when Haas heard aeroplanes flying overhead carrying their deadly burden, he asked himself whether anyone could hear him, if he were to cry out in protest against the war. The Cello Concerto begins with a scream in unbearable pain, followed by a section where the drumbeat conjures up the march rhythm of the Prussian army: a plea against fascism.
A daringly innovative composer of rich imaginative power, a homo politicus aware of his responsibilities as a citizen, Georg Friedrich Haas is one of the leading artists in Europe today. Among the prizes he has won are the SWR Symphony Orchestra Composition Prize (2010), the Music Award of the City of Vienna (2012) and the Salzburg Music Award (2013). In the same year Haas became Professor of Music at Columbia University in New York.
Georg Friedrich Haas's previous operas are the chamber operas Adolf Wölfli and Nacht and the operas Die schöne Wunde, Bluthaus, Melancholia and Thomas. In 2015 Haas's song cycle ATTHIS was performed in a staged production by Netia Jones in the Linbury Studio Theatre, Royal Opera House.
- With thanks to Universal Edition
Jon Fosse
Jon Fosse was born in Haugesund, Norway and currently lives in Grotten (Norwegian for The Grotto), an honorary residence owned by the Norwegian state. It is a 19th-century building located on the premises of the Royal Palace in the city centre of Oslo. Jon has written novels, short stories, poetry, children's books, essays and numerous plays. His work has been translated into more than forty languages and his plays are performed all over the world. All his plays are published in English by Oberon Books.
- With thanks to Casarotto Ramsay & Associates