Main content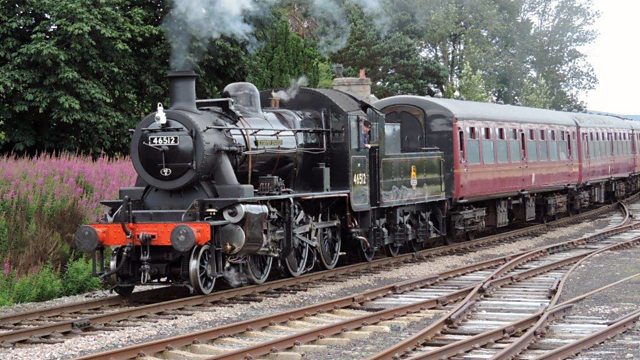 Alasdair MacCalum goes on a special journey of discovery on the Highland Railway to mark its 150th anniversary.
Thig an cois Alasdair MhicChaluim, a bha a-riamh air a bheò-ghlacadh le trèanaichean, agus e a' gabhail cuairt shònraichte air Rathad-Iarainn na Gàidhealtachd gus sgeulachd an lìonra ainmeil innse is e a' comharrachadh 150 bliadhna ann an 2015.
Tha na loidhnichean seo a' ruith à Peairt tro Inbhir Nis, dhan Ear gu Baile Chè, gu tuath a dh' Inbhir Ùige agus a dh' Inbhir Theòrsa, agus an uairsin a-null gu Caol Loch Aillse san Iar. Còmhla 's iad aon den chruinneachaidhean de ròideaniarainn as bòidhche agus as iomallaiche san Roinn Eòrpa.
Air an t-slighe coinnichidh Alasdair ri eòlaichean, luchd-eachdraidh, innleadairean, agus cuid eile a tha a cheart cho dèideil air na ròideaniarainn, agus bheir e sgeulachd an lìonra iongantach seo beò. Bho na dùbhlain mòra innleadaireachd a bh' ann, gun bhuaidh mhòr a thug e air coimhearsnachdan na Gàidhealtachd.
Rathad-Iarainn na Gàidhealtachd - sgeulachd lìonra rèile a tha dha-rìribh sònraichte ann an iomadh dòigh.
Join railway enthusiast Alasdair MacCalum on a special journey of discovery on the Highland Railway as he tells the story of this famous network which celebrated its 150th anniversary in 2015.
The series of lines run from Perth to Inverness, then out east towards Keith, north up to Wick and Thurso and across to Kyle of Lochalsh in the west. Together they make up one of the most stunning and isolated railway systems in Europe.
Along the way, Alasdair meets historians, experts, engineers and fellow enthusiasts and brings this amazing railway's story to life. From the enormous engineering feats needed to build it to the massive impact that it had on the Highland communities, this programme tells the story of a railway that is unique in many different ways.