Main content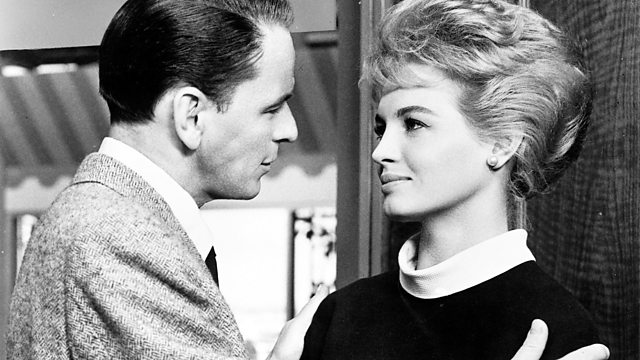 08/12/2015
Hollywood actor Angie Dickinson, who played Sinatra's wife in the heist film Ocean's 11, presents the second of two retrospectives of Frank Sinatra the actor.
Hollywood star Angie Dickinson presents the second star-studded portrait of Frank Sinatra in Hollywood.
Angie, who played Sinatra's estranged wife Bea in 1960's Ocean's 11, is joined by fellow actors Shirley MacLaine, Debbie Reynolds and Kim Novak to reflect on Sinatra's prolific film career.
Over five decades Frank Sinatra acted in war thrillers, noir dramas, detective capers, comedies and musicals. In a cinematic career just as colourful as his musical one, he played sailors, nightclub singers, assassins, detectives, soldiers and heroin addicts. Angie asks what made Sinatra such a great actor on screen and what was the relationship between his screen and singing persona?
Programme Two opens at the peak of Sinatra's silver screen success with Angie's stories from the Las Vegas while shooting Ocean's 11. We also revisit some of Sinatra's greatest roles in Hollywood musicals, including Pal Joey with Kim Novak.
Debbie Reynolds shares her memories of starring opposite Sinatra in 1955's The Tender Trap and Shirley MacLaine revisits her time on the set of Can-Can in 1960.
The journalist Gay Talese, who wrote the acclaimed Esquire feature 'Frank Sinatra Has A Cold' observed Sinatra shooting 'Assault on a Queen', one of his critical flops of the mid-60s. While many of Sinatra's later screen performances were deemed lazy, we'll hear of some of the exceptions, including his role in The Manchurian Candidate and his underrated detectives and police officer films.
Featured in...
A series of programmes on Radio 2 celebrates 100 years since the birth of Ol' Blue Eyes.