Main content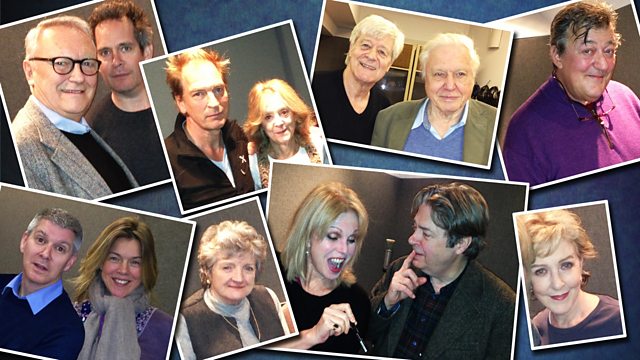 Michael Frayn's hilarious view of our world. People talking. Overheard. Half-heard. Talking to each other, to themselves. With Stephen Fry, Joanna Lumley and Tom Hollander.
Michael Frayn - the most comic philosophical writer of our time. An all-star cast has great fun with Frayn's hilarious view of us all. People talking. To each other, to the world at large, to themselves. Explaining. Heard, overheard, half-heard.
In Episode 2, we eavesdrop on two strangers in a café. Patricia Hodge is the woman who can't get names right. Joanna Lumley, listening in at the next table, longs to correct her. Adam Godley becomes increasingly obsessive in a doctor's surgery. Matthew Wolf, attending a lecture on words, doesn't care for the phrase 'if you like'. Sophie Winkleman and Charles Edwards, trying to find their destination, have 'WIC' - that's 'Words in Car'. Stephen Fry is a politician who believes he has mastered the intricacies of his mobile phone. Tom Hollander and Nigel Anthony share confidences in their own mathematically precise language. And Julian Sands suffers at the hands of Martin Jarvis' Pinteresque writer-tormentor.
This four-part series is Theatre in miniature. Short entertainments based on Frayn's recently acclaimed book, Matchbox Theatre. His brand new collection, now on the radio - the theatre of the listener's imagination. Set design, ice-cream sales, packet of nuts, where to sit - it's up to you. Just sit back and enjoy.
Episode 2 cast: Patricia Hodge, Joanna Lumley, Adam Godley, Mathew Wolf, Sophie Winkleman, Charles Edwards. Stephen Fry, Tom Hollander, Nigel Anthony, Julian Sands, Martin Jarvis.
Written by Michael Frayn
Producer: Rosalind Ayres
Director: Martin Jarvis
A Jarvis and Ayres production for BBC Radio 4.
Credits
| Role | Contributor |
| --- | --- |
| Actor | Patricia Hodge |
| Actor | Joanna Lumley |
| Actor | Adam Godley |
| Actor | Matthew Wolf |
| Actor | Sophie Winkleman |
| Actor | Charles Edwards |
| Actor | Stephen Fry |
| Actor | Tom Hollander |
| Actor | Nigel Anthony |
| Actor | Julian Sands |
| Actor | Martin Jarvis |
| Writer | Michael Frayn |
| Director | Martin Jarvis |
| Producer | Rosalind Ayres |