Main content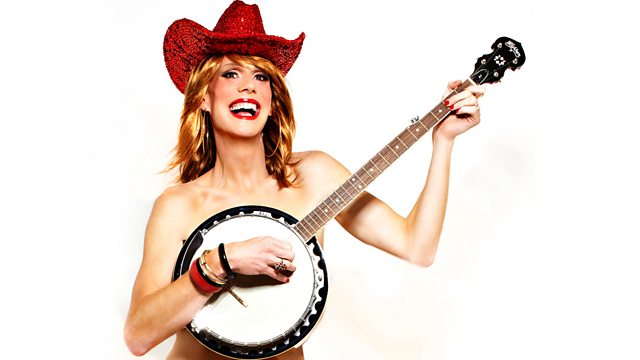 Country music star Tina's rural Tennessee humble childhood provided a rich seam of stories for her early work. From 2015.
Country music star Tina C presents her life story, starting with her humble origins in deepest Tennessee and taking us all the way to where she stands today - a global feminist icon, and political powerhouse. And she can still knock out a tune or two too.
Tina will be joined on stage by a three-piece band who will help her recreate her biggest hits, and a special guest interviewer who will talk to her about her struggles.
In this first episode, Tina recalls her childhood. A humble start in life provides a rich seam of stories which fed into her early work. Family has always been important to Tina - as tracks like Hard Times, Don't Be Afraid to Start Crying, and Tramp on a Trampoline show.
From the moment her second album No Dick's As Hard As My Life was released, the world took notice of country music singer Tina C. Since then she has become a global brand. Following 9/11 she has been travelling the world 24/11 working for peace and being a poster girl for American democracy, selling that unique vision of hope to the rest of the world whether they want it or not. Seductive and persuasive, she is here to recruit you to her world view. She is the living embodiment (and what a body) of soft power. Tina C. has performed in venues all over the world, with her own TV show and five series on BBC Radio. You can run but you can't hide from Tina C.
Tina is the creation of Christopher Green, a multi-award winning writer and performer.
"Tina C is one of my favourite performers. She is witty, often outrageous and always in tune! I can't wait to see what Chris Green comes up with next" Sir Ian McKellan
""Christopher Green's Tina C is one of the great comic creations of the age. A genuinely fine country singer, but with a twist of satire and insight which is rare and to be highly prized". Stephen Fry
Written & performed by Christopher Green.
Additional voices: Debra Baker & Leo Wan.
The Band: Duncan Walsh-Atkins, Mark Hardisty & Phil Wraith.
Special guest interviewer: Dr Raj Persaud.
Producer: Victoria Lloyd
More episodes
Previous
You are at the first episode