Main content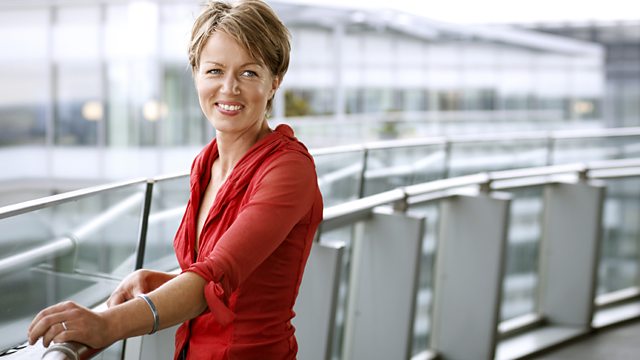 Marschner - Hans Heiling
Verity Sharp presents a performance of Heinrich Marschner's Hans Heiling given at Theater an der Wien, featuring soprano Angela Denoke and baritone Michael Nagy.
Verity Sharp presents this week's opera matinee, Hans Heiling by Heinrich Marschner, recorded in Vienna earlier this year at the Theater an der Wien, featuring the soprano Angela Denoke and the baritone Michael Nagy.
Heiling is a supernatural creature from German folklore who sometimes takes a human form and is said to be able to put a village to sleep for a century, or turn an entire wedding-party to stone. Premiered in 1833, the music wears well the composer's influences of Weber and Spontini, and the lively libretto was written by Eduard Devrient who also sang the title-role in the premiere!
Marschner: Hans Heiling
Queen of the Erdgeister ..... Angela Denoke (soprano)
Hans Heiling, her son ..... Michael Nagy (baritone)
Anna, his bride ..... Katerina Tretyakova (soprano)
Gertrude, her mother ..... Stephanie Houtzeel (contralto)
Konrad, a hunter and Anna's sweetheart ..... Peter Sonn (tenor)
Stephan, a blacksmith ..... Christoph Seidl (bass)
Niklas, a tailor ..... Patrick Maria Kühn (tenor)
Arnold Schoenberg Chorus
ORF Radio Symphony Orchestra, Vienna
Constantin Trinks (conductor).
Synopsis
PRELUDE
A year has passed since the death of Hans Heiling. His grieving mother, the Queen, stands at his grave. When she recalls her last meeting with her son, her pain is mingled with anger, since she had done everything in her power to stop him leaving her and devoting himself heart and soul to the young and vivacious Anna. Her failure to do so and the consequences of it – the loss of her son twice over -are memories that torment her to the depths of her soul.
OVERTURE
The relationship between Hans Heiling and his mother is described.
ACT I
Scene 1
Determined to change his life completely and escape from his mother's obsessive love, the wealthy and eccentric Hans Heiling plans to marry Anna, who comes from a more modest background. Accompanied by her mother, Gertrude, Anna pays her first visit to him at his home. While Heiling is in transports of delight, Anna finds the unconventional and possessive man and his house disconcerting. Finding herself unobserved for a moment, she opens an album containing his private pictures and is horrified by what she sees. She demands that he destroy the book – as proof of his love. After hesitating for some time, he eventually complies. Relieved, Anna and Gertrude persuade Heiling to accompany them to the village fair. He reluctantly agrees, but only on condition that she does not dance.
Scene 2
The entire village has gathered for a festival in honour of St. Florian, and everyone celebrates with abandon. Among the revellers are Niklas and Stephan and his cousin Konrad, who has long been an admirer of Anna. When Anna arrives with Heiling and Gertrude, Konrad asks her for a dance. Heiling furiously protests and reminds Anna of her promise. A quarrel breaks out, and Anna threatens to break off their engagement. But then she relents and makes up with Heiling. Despite this, she still dances with Konrad – leaving Heiling standing alone and offended.
ACT II
Scene 1
In an emotional turmoil following the events at the fair, Anna walks alone through the wood. She realises that she has fallen in love with Konrad and is torn between her true feelings and the promise of marriage she has made to Heiling. Suddenly, she meets Heiling's mother coming the other way. To win her son back, the Queen tells Anna about his true nature and the incestuous relationship he has with her, and threatens her. Anna breaks down in shock. A short time later, Konrad passes by and finds the frightened girl. Although she does not tell him anything about her meeting with the Queen, he nevertheless discovers that Anna does not love Heiling and no longer wants to marry him.
Scene 2
Gertrude has gone off to look for her daughter – partly because she is anxious about her and partly because she wants a serious talk with her about Heiling. Gertrude is in favour of a union with the rich man, hoping it will provide future security for Anna and herself. In the wood, she comes across Anna with Konrad who asks her not to give her daughter to Heiling, but to him. Gertrude is unwilling to give up this good catch for Anna. Suddenly, Heiling appears and demands that Anna keep her promise to him. She now reveals what the Queen told her earlier. Konrad makes as if to chase him off and draws his knife, but in the end it is Heiling who kills Konrad with it.
ACT III
Scenes 1 + 2
Imprisoned, Heiling is forced to admit that his attempt to escape from his old life has failed. His loved one, who should have cleared the way for him into another world, has left him. He has had his revenge, it is true, but he could not win her back. Or could he? His inner voices begin to make him doubt Konrad's death, his revenge and himself, and he slips deeper and deeper into the delusion. He sees Anna's wedding and his forgiving mother. In the end, though, he realises the futility of his imaginings from which he knows there is only one possible escape route.
- With thanks to the Theater an der Wein.