Main content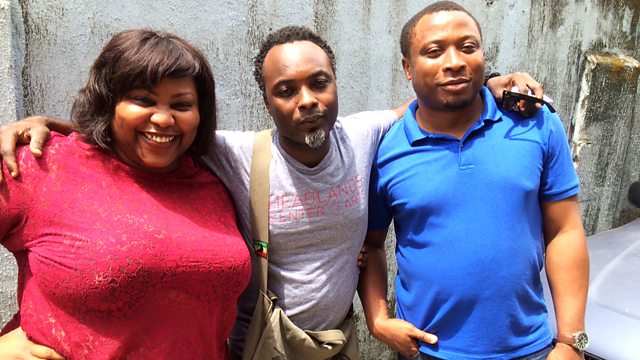 Ideas of Identity
A portrait of Nigeria, seen through the eyes of a new generation of novelists and poets. In this edition, Wana Udobang meets the writers exploring Nigerian ideas of identity.
A portrait of Nigeria, seen through the eyes of a new generation of writers and poets. In the second programme of the series, Wana Udobang meets the writers who are exploring Nigerian ideas of identity.
The protagonist in Igoni Barrett's latest novel is a black Nigerian who, one morning, wakes up white. Barrett uses this scenario to explore Nigerians' sense of themselves in relation to other nationalities - particularly Europeans and Americans.
Wana also considers Nigerian geographical and ethnic identities. The north of Nigeria is under-represented in Nigerian English-language literature. Novelists Abubakar Adam Ibrahim and Elnathan John are addressing this imbalance: both have written books which are set in the North but which give a more nuanced portrayal, beyond Boko Haram and communal conflict. Elnathan's novel is a coming-of-age story and Abubakar's is a romance between a widow and a young gangster. We also hear from poet and novelist Lola Shoneyin who takes on the sensitive subject of polygamy in her story The Secret Lives of Baba Segi's Wives.
Nigeria is a country of many languages. Alongside English - and Pidgin English - there's Hausa, Yoruba, Igbo and many others. Writers Kola Tubosun and Jumoke Verissimo consider the influence of these on writing in English - and the way that both fiction and social media can promote the survival of minority languages.
But if fiction is to flourish, it needs an infrastructure. Many established novelists have had to look outside Nigeria to achieve recognition and success. Publishers Eghosa Imasuen and Bibi Bakare-Yusuf discuss the challenges of popularising poetry and fiction in a market where self-help and inspirational books completely outsell every other genre.
'Writing a New Nigeria' is produced in partnership with the British Council as part of UK/Nigeria 2015-16
Producer: Jeremy Grange.
Last on

Broadcasts