Main content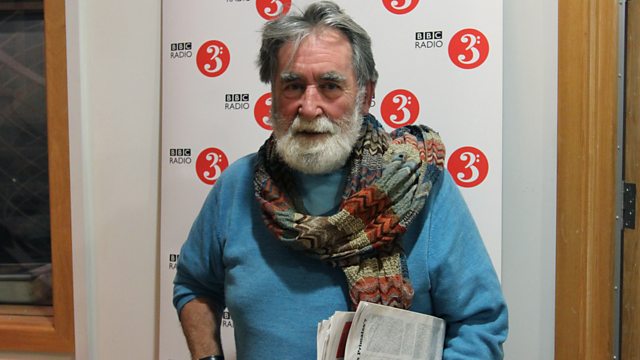 Friday - Rob Cowan with Tom Phillips
With Rob Cowan. Five Reasons to Love Mendelssohn's Songs Without Words; Arvo Part: Fratres; Artist of the Week: David Willcocks, featured conducting Purcell's My Heart is Inditing.
9am
A selection of music including '5 reasons to love... Mendelssohn's Songs Without Words'. Rob explores the tonal variety, subtle poetry, drama and aria-like expression of Felix Mendelssohn's intimate miniatures, in the hands of pianists including Livia Rév, Vladimir Horowitz and Ignaz Friedman. He also showcases a pair of songs by Felix's sister Fanny, which demonstrate that her compositions matched his in their charm and originality.
9.30am
Take part in today's musical challenge: trace the classical theme behind a well-known song.
10am
Rob's guest this week is the artist Tom Phillips. Tom is renowned for his portraiture, sculpture and collages, including his extraordinary ongoing project A Humument, an altered Victorian novel (the pages of which Tom paints, draws and collages over), 49years in the making. An illustrator, set designer, librettist, composer, curator and collector, Tom is also the author of Music in Art, a survey of art inspired by music. Tom will be sharing a selection of his favourite classical music, every day at 10am.
10.30am
Rob places Music in Time as he experiences the Romantic drama of Tchaikovsky's Francesca da Rimini: a raging tone poem, based on Dante's Inferno, that takes a prompt from Liszt and heads determinedly towards the world of film music.
11am
Rob's Artist of the Week is Sir David Willcocks. Throughout the week Rob pays tribute to Sir David Willcocks: organist, composer, and the most celebrated British choral conductor of his generation, who died in September, aged 95. From 1957 until 1974 he was Director of Music at King's College, Cambridge; under his leadership and training the choir became internationally renowned for its precision, immaculate tuning and pure beauty of tone. Through their annual broadcasts of the Festival of Nine Lessons and Carols, and Sir David's dazzling carol arrangements and descants, his name has become indelibly associated with Advent and Christmas. For 38 years he was also the musical director of the Bach Choir, conducting them in some eighty performances of the St Matthew Passion, as well as championing music by contemporary British composers. Rob surveys Sir David's glittering recorded legacy, showcasing some of his most acclaimed interpretations, and unearthing some rare gems.
Purcell
My Heart is Inditing, Z30
James Bowman (countertenor)
Nigel Rogers (tenor)
Max von Egmond (bass)
Choir of King's College, Cambridge
Gustav Leonhardt (organ)
Sir David Willcocks (conductor).
Music Played
5 Reasons to Love... Mendelssohn's Songs Without Words

Tom Phillips' Choice No. 1

Rob's Choice for Tom Phillips

Music in Time: Romantic

Artist of the Week: Sir David Willcocks

Artist of the Week: Sir David Willcocks
Classical Roots
Answer: 'Jane B' by Serge Gainsbourg is based on Chopin's Prelude in E minor, Op.28 No.4
The music played:
Serge Gainsbourg
'Jane B'
Jane Birkin (singer)
FONTANA RECORDS

Time Travellers: the podcast