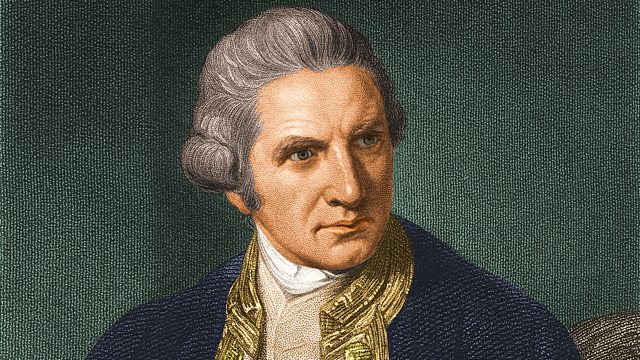 Voyages of James Cook
Melvyn Bragg and guests discuss the scientific advances made in the three voyages of Captain James Cook, from 1768 to 1779. Cook's voyages astonished Europeans, bringing back detailed knowledge of the Pacific and its people, from the Antarctic to the Bering Straits. This topic is one of more than a thousand different ideas suggested by listeners in October and came from Alysoun Hodges in the UK, Fiachra O'Brolchain in Ireland, Mhairi Mackay in New Zealand, Enzo Vozzo in Australia, Jeff Radford in British Columbia and Mark Green in Alaska.
With
Simon Schaffer
Professor of the History of Science at the University of Cambridge
Rebekah Higgitt
Lecturer in the History of Science at the University of Kent
And
Sophie Forgan
Retired Principle Lecturer at the University of Teesside
Chairman of Trustees of the Captain Cook Museum, Whitby
Producer: Simon Tillotson.
Last on
LINKS AND FURTHER READING
Simon Schaffer at the University of Cambridge
Rebekah Higgitt at the University of Kent
Captain Cook Memorial Museum, Whitby
Board of Longitude - Cambridge Digital Library
READING LIST:
J. C. Beaglehole, The Life of Captain James Cook (Stanford University Press, 1974)
Captain James Cook (ed. Philip Edwards), The Journals of Captain Cook (Penguin Classics, 1999)
Richard Dunn and Rebekah Higgitt, Finding Longitude: How clocks and stars helped solve the longitude problem (Collins, 2014)
Patricia Fara, Sex, Botany and Empire: The Story of Carl Linnaeus and Joseph Banks (Icon Books Ltd, 2003)
John Gascoigne, Captain Cook: Voyager Between Worlds (Hambledon Continuum, 2007)
Rebekah Higgitt, Maskelyne: Astronomer Royal (Robert Hale Ltd, 2014)
Anne Salmond, The Trial of the Cannibal Dog: Captain Cook in the South Seas (Allen Lane, 2003)
Nicholas Thomas, Discoveries: the Voyages of Captain Cook (Allen Lane, 2003)
Jenny Uglow, Lunar Men: The Friends Who Made the Future (Faber and Faber, 2002)
Glyn Williams (ed), Captain Cook: Explorations and Reassessments (Boydell Press, 2004)
Glyn Williams, Naturalists at Sea: From Dampier to Darwin (Yale University Press, 2013)
Andrea Wulf, Chasing Venus: The Race to Measure the Heavens (Knopf Publishing Group, 2012)
Credits
| Role | Contributor |
| --- | --- |
| Presenter | Melvyn Bragg |
| Producer | Simon Tillotson |
| Interviewed Guest | Simon Schaffer |
| Interviewed Guest | Rebekah Higgitt |
| Interviewed Guest | Sophie Forgan |