Main content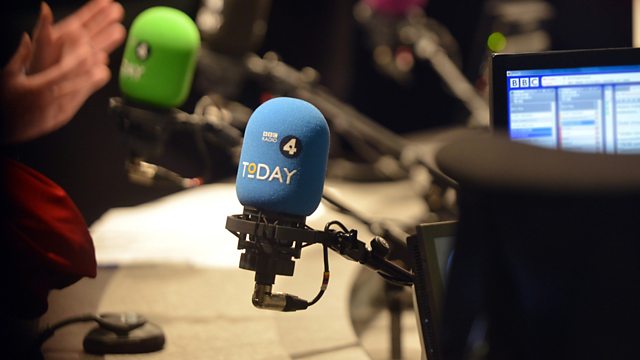 02/12/2015
Morning news and current affairs. Includes Sports Desk, Yesterday in Parliament, Weather and Thought for the Day.
Last on

Today's running order
0650
The broadcaster Diane Louise Jordan has spoken out about the use of harassment notices after she was issued with them. The BBC's Sanchia Berg met Ms Jordan to hear about her experience.
0655
If MPs do vote for airstrikes in Syria tonight as part of a wider strategy to deal with the Islamic State group, how will that play out on the ground in Syria? James Harkin is a British journalist who has been to Syria and travelled with rebel, Islamist and Kurdish militias; he gave evidence to the Foreign Affairs Select Committee on Syria in September.
0710
What will the Syrian opposition forces make of the Parliamentary debate on military action? Our correspondent Kevin Connolly has been gathering opinion in the capital of Jordan, Amman.
0715
At the heart of the debate today is the question of whether an eventual political solution in Syria will be helped or hindered by military action. James Naughtie spoke this morning to Emma Sky, who worked for the British Council with Palestinians in the occupied west bank and advised the American authorities in Iraq after the 2003 invasion.
0720
The senior officer in charge of firearms policing in London says police may have to "walk over casualties" when they respond to a terrorist incident in order to deal immediately with the threat. Danny Shaw is the BBC's Home Affairs correspondent.
0725
Plans are being announced today for a series of sound and light shows in a derelict Scottish seminary that supporters of the brutalist style say is an architectural masterpiece. The BBC's Scotland correspondent Colin Blane has been to St Peter's College to see for himself.
0730
MPs vote tonight on whether Britain should carry out airstrikes against the IS group in Syria. BBC reporter Secunder Kermani has been talking to a woman who was held prisoner by the Assad regime in Syria, and we speak live to Father Nadim Nassair, an Anglican Priest from Syria and director of the Awareness Foundation.
0740
MPs will vote tonight on extending air strikes against IS targets into Syria. We hear from Laura Kuennsberg, the BBC's political editor.
0750
When the next financial crisis hits will the UK be in a better position to deal with it than it was in 2008? We have been speaking to Sir Jon Cunliffe, deputy governor of the Bank of England.
0810
MPs will vote tonight on extending air strikes against Islamic State group targets into Syria. Lyse Doucet is the BBC's chief international correspondent, and live in the studio is Sir Dominic Asquith, the former UK Ambassador to Iraq, Libya and Egypt, and Air Chief Marshal Michael Graydon, former chief of air staff.
0820
The children's author Lynne Reid Banks wrote a letter in yesterday's Guardian criticising the winner of the Guardian's children's book prize - David Almond's A Song for Ella Grey - for being an inappropriate read for children. Speaking on the programme is both Lynne Reid Banks and David Almond.
0830
How important is it to the US that Britain joins airstrikes in Syria and how committed is the US to defeating IS? Dr Karin Von Hippel is former chief of staff to General John Allen, US Special Presidential Envoy for the Global Coalition to Counter-ISIL. This is her first interview.
0835
Facebook's Mark Zuckerberg and his wife Priscilla Chan say they will give away 99% of their shares in the company to good causes as they announce the birth of their daughter Max. Speaking on the programme is Marcelle Speller, philanthropist and founder and chairman of LocalGiving, a fundraising platform for local charities.
0840
It is the final day of campaigning in the Oldham West and Royton by-election, the final hours before the first electoral test of Jeremy Corbyn's leadership. Our political correspondent Ross Hawkins reports from Oldham.
0855
After the former Sex and the City star Kim Cattrall dropped out of the Royal Court production of Linda last night, actress Noma Dumezweni stepped in, delivering an astonishing performance despite occasionally reading the script. Our arts editor Will Gompertz was there, and we are also joined live by Noma Dumezweni herself.
0850
Will bombing IS targets in Syria make the British public more or less safe? Speaking on the programme is Frank Gardner, our security correspondent, and Nigel Inkster, director of Transnational Threats and Political Risk at the International Institute for Strategic Studies think tank and former director of operations for MI6.
All subject to change.
Broadcast