Main content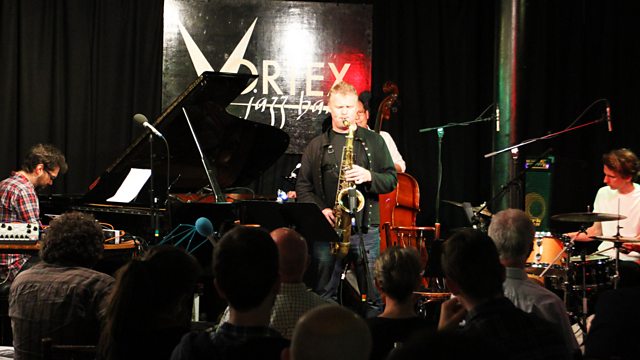 Curios with Iain Ballamy
From the Vortex jazz club in London, a special collaboration between saxophonist Iain Ballamy and pianist Tom Cawley's Curios. With Sam Burgess (bass) and Joshua Blackmore (drums).
Saxophonist Iain Ballamy joins forces with pianist Tom Cawley's Curios at the Vortex Jazz Club in London, for a special collaboration masterminded by Jazz on 3.
Cawley is a long-time admirer of Ballamy's playing and was briefly taught by the saxophonist while studying in London, but this is the first time they've performed together in public.
Featuring new compositions by both musicians, the result is a rollercoaster set that juxtaposes languid melodies and shape-shifting grooves. Cawley and Ballamy craft searching improvisations, while bassist Sam Burgess and drummer Joshua Blackmore keep the quartet on their toes with stuttering cross-rhythms and bursts of broken swing.
Clips

Music Played
New Release

Curios featuring Iain Ballamy in concert at the Vortex, London on 3rd September 2015

My Day In Music: Tom Cawley

Curios featuring Iain Ballamy in concert at the Vortex, London on 3rd September 2015

Unsung Heroes: Sarah Gail Brand in conversation with Alex Ward

Mark Lockheart Introduces Malija
Line up:
Iain Ballamy (saxophones); Tom Cawley (piano); Sam Burgess (double bass); Joshua Blackmore (drums)