Lily-Grace's cane, Nystagmus
Peter White goes to Bristol to meet Lily-Grace Hooper, the blind child who's been told she can't use her long cane in school for health and safety reasons. And we talk about the merits of Wobbly Wednesday, the campaign to raise awareness of the eye condition, Nystagmus.
Last on
Lily-Grace Hooper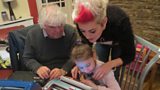 Lily-Grace Hooper, and her mum Kristy, practising braille with Peter White.