Main content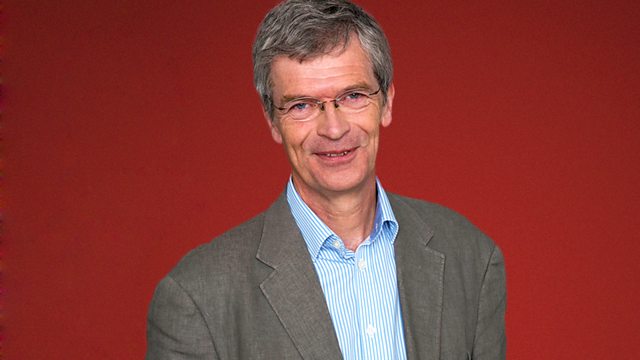 28/11/2015
Alyn Shipton's selection of listeners' requests includes a trumpet battle by Fats Navarro, music by Howard McGhee and part of Duke Ellington's Shakespearean suite "Such Sweet Thunder".
Performers:
Artist  Billy Strayhorn and Johnny Hodges
Title  Things Ain't What They Used to Be
Composer Ellington
Album  Juice a Plenty / Live!
Label  Fresh Sound
Number  762 Track 12
Duration  2.47
Performers Shorty Baker, Cat Anderson, Clark Terry, Ray Nance, t; Quentin Jackson, Britt Woodman, John Sanders, tb; Jimmy Hamilton, Russell Procope, Johnny Hodges, Paul Gonsalves, Harry Carney, reeds; Billy Strayhorn, p; Jimmy Woode, b; Sam Woodyard, d. 1958.

Artist  Kenny Clarke & Francy Boland
Title  Now Hear My Meaning
Composer Jimmy Woode
Album  Live At Ronnie Scott's
Label  MPS
Number  22 29728-4 Side B Track 3
Duration  5.40
Performers Performers: Benny Bailey, Dusko Goykevich, Idrees Suliman, t; Erik Van Leer, Nat Peck, Ake Persson, tb; Derek Humble, Sahib Shihab, Ronnie Scott, Tony Coe, Johnny Griffin, reeds; Francy Boland, p; Ron Matthewson, b; Kenny Clarke, Kenny Clare, d. 28 Feb 1969.

Artist  Art Tatum
Title  What Is This Thing Called Love?
Composer Porter
Album  Legendary Art Tatum 1955 Sextet Session
Label  Essential Jazz Classics
Number  55409 Track 2
Duration  7.40
Performers  Harry Edison, t; Lionel Hampton, vib; Art Tatum p; Barmey Kessel, g; Red Callender, b; Buddy Rich, d. 7 Sep 1955.

Artist  Kenny Burrell
Title  Midnight blue
Composer Burrell
Album  Midnight Blue
Label  Blue Note
Number  84123 Track 4
Duration  4.02
Performers  Kenny Burrell (guitar); Major Holley, Jr. (bass); Bill English (drums); Ray Barretto, cga. 1963.

Artist  Cannoball Adderley
Title  Up and At It
Composer Montgomery
Album  Accent on Africa
Label  Capitol
Number  Track 4
Duration  3.36
Performers  Cannonball Adderley, as; Nat Adderley, c; big band dir H Barnum. 1968

Artist  Carla Bley
Title  The Lord is listening to Ya, Hallelujah
Composer Bley
Album  Live!
Label  Watt/ECM
Number  Track 2
Duration  7.24
Performers  Mike Manlter, t; Gary Valente, tb; Earl McIntyre, btb; Vincent chancey, frh; Steve Slagle, Tony Dagradi, reeds; Carla Bley, org; Arturo, O'Farrill, p;  Steve Swallow, b; D Sharp, d. 1981

Artist  Luis Russell
Title  Panama
Composer Tyers
Album  Luis Russell and his Orchestra
Label  Topaz
Number  TPZ-1039
Duration  3.16
Performers  Henry Red Allen, Otis Johnson, t; J C Higginbotham, tbn; Albert Nicholas, cl, as; Charlie Holmes, as; Greely Walton, ts; Luis Russell, p; Will Johnson, bj; Pops Foster, b; Paul Barbarin, d. 5 Sep 1930

Artist  Kid Ory
Title  The World's Jazz Crazy, Lawdy So Am I
Composer Huff / Blythe
Album  Kid Ory and His Creole Jazz band
Label  Columbia
Number  C-126 Track 6
Duration  3.15
Performers Mutt Carey, c; Kid Ory, tb; Barney Bigard, cl; Bud Scott, bj; Buster Wilson, p; Ed Garland, b; Minor Hall, d.

Artist  Woody Herman
Title  Not Really The Blues
Composer Mandel
Album  The Woody Herman Story
Label  Proper
Number  Properbox 15 CD 4 Track 17
Duration  2.53
Performers Ernie Royal, Al Porcino, Stan Fishelson, Charlie Walp, Shorty Rogers, tp; Earl Swope, Bill Harris, Ollie Wilson, Bart Varselona, tb; Woody Herman, cl, as, v; Sam Marowitz, as; Gene Ammons, Buddy Savitt, Jimmy Giuffre, ts; Serge Chaloff, bs; Lou Levy, p; Oscar Pettiford, b; Shelly Manne, d; Terry Gibbs, vib; 14 July 1949

Artist  Fats Navarro
Title  Double Talk
Composer McGhee / Navarro
Album  Bebop Spoken Here
Label  Proper
Number  Properbox 10 CD 3 Track 23
Duration  5.30
Performers Howard McGhee, Fats Navarro, t; Ernie Henry, as; Milt Jackson, p; Curly Russell, b; Kenny Clarke, d. 11 Oct 1948

Artist  Julia Hülsmann Quartet with Theo Bleckmann
Title  Mack the Knife
Composer Brecht / Weill
Album  A Clear Midnight: Kurt Weill and America
Label  ECM
Number  Track 1
Duration  4.30
Performers Theo Bleckmann, v; Tom Arthurs, t; Julia Hülsmann, p; Marc Muellbauer, b: Heinrich Kobberling, d. 2015

Artist  Duke Ellington
Title  Sonnet for Caesar
Composer Ellington / Strayhorn
Album  Such Sweet Thunder
Label  Columbia
Number  Track 2
Duration  3.00
Performers  Cat Anderson, Clark Terry, Willie Cook, Ray Nance, t; Quentin Jackson, Britt Woodman, John Sanders, tb; Jimmy Hamilton, Russell Procope, Johnny Hodges, Paul Gonsalves, Harry Carney, reeds; Duke Ellington, p; Jimmy Woode, b; Sam Woodyard, d. 1957