Main content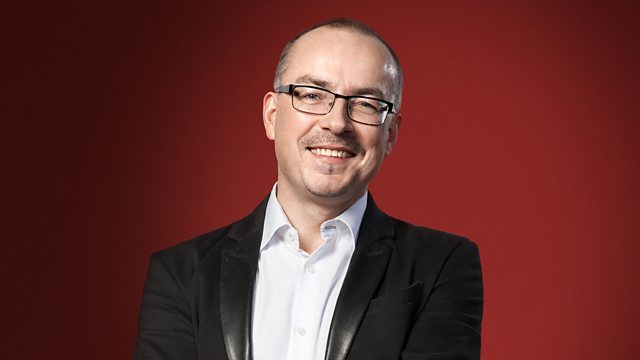 Building a Library: Bellini's Norma
With Andrew McGregor. Including Building a Library: Bellini's Norma; David Nice reviews Stravinsky reissues on the Deutsche Grammophon and Sony labels; Disc of the Week.
with Andrew McGregor
0930
Building a Library: Roger Parker compares recordings of Bellini's great opera, Norma. The story of love, jealousy and betrayal is set to music that is at once lyrical, passionate and dramatic.
1030
David Nice joins Andrew to discuss a couple of sets of Stravinsky reissues on DG and Sony - including some material that has never been out on CD before.
1145
Andrew chooses an outstanding recording for his Disc of the Week.
9.00am
Mendelssohn: A Midsummer Night's Dream
MENDELSSOHN: The Fair Melusine Overture Op. 32; A Midsummer Night's Dream - incidental music Op. 61; Hebrides Overture Op. 26
Magdalena Risberg (soprano), Camilla Tilling (soprano), Swedish Chamber Orchestra, Swedish Radio Choir, Thomas Dausgaard (conductor)
BIS BIS2166 (Hybrid SACD)
SCHUBERT / BRAHMS: The Complete Duos / Trockne Blumen
SCHUBERT: Introduction and Variations on Trockne Blumen D.802, Op.160; Sonatine in A minor D.385, Op.137/2
BRAHMS: Sonata 1 in E minor Op.38
Pieter Wispelwey (cello), Paolo Giacometti (piano)
EVIL PENGUIN EPRC0021 (CD)
Prokofiev & Tchaikovsky: Piano Concertos
PROKOFIEV: Piano Concerto No. 2 in G minor Op. 16
TCHAIKOVSKY: Piano Concerto No. 1 in B flat minor Op. 23
Beatrice Rana (piano), Orchestra dell'Accademia Nazionale di Santa Cecilia, Antonio Pappano (conductor)
WARNER CLASSICS 2564600909 (CD)
9.30am Building a Library
Roger Parker compares recordings of Bellini's Norma and makes a personal recommendation.
Top Recommendation (1954, mono):
BELLINI: Norma
Maria Callas (Norma), Mario Filippeschi (Pollione), Ebe Stignani (Adalgisa), Nicola Rossi-Lemeni (Oroveso), Paolo Caroli (Flavio), Rina Cavallari (Clotilde), Orchestra and Chorus of La Scala Milan, Tullio Serafin (conductor)
WARNER CLASSICS 2564634111 (3CD budget)
Recommendation in stereo (on period instruments):
BELLINI: Norma
Cecilia Bartoli (Norma), Sumi Jo (Adalgisa), John Osborn (Pollione), Michele Pertusi (Oroveso), Liliana Nikiteanu (Clotilde), Reinaldo Macias (Flavio), Orchestra La Scintilla, International Chamber Vocalists, Giovanni Antonini (conductor)
DECCA 4783517 (2CD)
10.30am Early/Baroque new releases
Il Viaggio d'Amore
Arianna Savall (vocals, harp), Hirundo Maris
CARPE DIEM CD16307 (CD)
Time and its Passing
BACH, J S: Mass in B minor, BWV232: Et incarnatus est
BYRD: Diliges Dominum
CRUFT: These Hours
FINZI: Haste on, my joys! (No. 6 from Seven Partsongs - Poems by Robert Bridges Op. 17)
GIBBONS, O: What is our life?
HOWELLS: Even such is time
JACKSON, GABRIEL: To Morning 'O holy virgin! clad in purest white'
KODALY: Esti dal
LEY: A Prayer of King Henry VI
PARRY: Music, when soft voices die
PART: Nunc dimittis; ... which was the son of ...
RECKNELL: Ozymandias
ROWARTH: The Evening Watch
TALLIS: Thou wast, O God; Miserere nostri, motet for 7 voices, P. 207
TAVENER: O, do not move; The Three Ravens
VICTORIA: Lux aeterna
Rodolfus, Ralph Allwood (conductor)
SIGNUM SIGCD445 (CD)
Mersenne's Clavichord
ANGLEBERT: Prelude en re mineur; Prelude sur chacun ton; Longtemps y a que je vis en espoire; Dance: La Bounette; Preludes (4)
BARRE, P: Tu crois, o Beau Soleil
CELLIER, J: Pavane
CHAMBONNIERES: Sarabande in A minor
COSTELEY: Prelude - Fantasie
FEVIN: Sancta Trinitas
GARDANE: Gamba Gagliarda - Moneghina Gagliarda (attr.)
GIGAULT: Recit a trois
GOMBERT: Hors envyeux
LEBEGUE: Laissez paistre vos Bestes
MEGNIER: Prelude
ORLEANS, M: A Volte
RACQUET: Fantaisie
SCRONX: Echo in F
SWEELINCK: Toccata in C
Terence Charlston (clavichord)
DIVINE ART DDA25134 (CD)
MUFFAT, GEORG: Florilegium primum
Jochen Gruner (violin), Kathrin Troger (violin), Clarissa Miller (viola), Lothar Haass (viola), Gunter Holzhausen (bass viol), Veronika Brass (harpsichord), Ensemble Salzburg Barock
CHALLENGE CLASSICS CC72678 (Hybrid SACD)
10.45am Reissues: David Nice on Stravinsky boxes
Critic David Nice joins Andrew live to discuss two recent box sets featuring reissued recordings of music by Igor Stravinsky.
Stravinsky Complete Edition
Comprising ballets, operas, oratorio, orchestral, choral, solo vocal, chamber and piano music, and including new recordings of four miniatures.
Performed by an array of Stravinsky interpreters including Abbado, Bernstein, Boulez, Chailly, Craft, Gardiner, Knussen, Levine, Maisky, Mutter, Pletnev, Pollini and Terfel.
DG 4794650 (30CD budget)
Igor Stravinsky - The Complete Columbia Album Collection
Including ballets, operas, oratorio, orchestral, choral, solo vocal, chamber and piano music by Stravinsky as well as works by Arensky, Babin, Bernstein, Bloch, Copland, Gesualdo, Gould, Rimsky-Korsakov, Schoenberg and Tchaikovsky.
Performed by a host of Stravinsky interpreters including the composer himself and his assistant, the late Robert Craft.
SONY 88875026162 (56CD + DVD Video budget)
11.45am Disc of the Week
TCHAIKOVSKY: Pique Dame
Misha Didyk (Herman), Tatiana Serjan (Lisa), Larissa Diadkova (Countess), Alexey Shishlyaev (Tomskij and Plutus), Alexey Markov (Yeletzki), Kinderchor der Bayerischen Staatsoper, Chor and Symphonieorchester des Bayerischen Rundfunks, Mariss Jansons (conductor)
BR KLASSIK 900129 (3CD mid-price)