Main content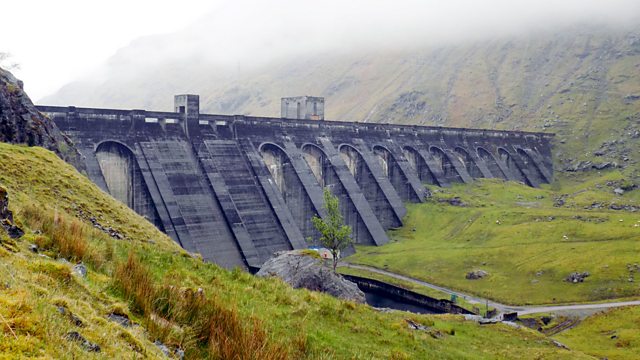 It's Not Easy Being Green
Series going behind the scenes at energy company SSE. We follow the people behind the gamble that could revolutionise our supply - by making it go green.
We take electricity for granted - never giving a second thought to how it's made. In this observational documentary series, one of Britain's controversial Big Six energy companies, SSE, has let the cameras in. Filmed over a year, this is the surprising story of an army of workers battling to keep our power flowing.
In this episode, we follow the people behind the giant gamble that could revolutionise our energy supply - by making it go green. From £3.5bn being spent on wind power by SSE to a massive new power line for green energy being built down the spine of Scotland, this is the story of an engineering project on a colossal scale. It's transforming some of our most remote and beautiful landscapes - but at what cost?
We meet Paul 'Chicken' McDermott and his gang as they build a wind turbine from scratch in just one day at Britain's newest wind farm. There's a storm coming in, so Chicken has to get the 230ft-high turbine up before nightfall.
800 contractors are labouring to finish a gigantic new power line, the Beauly-Denny line, which will stretch across 137 miles of Scotland's wildest countryside - to carry the power from remote wind farms to the cities where it's consumed. Andy 'Chopper' Simpson is masterminding the ticklish task of 'stringing' - threading cable through new pylons - by helicopter. To finish the line, the specialist skills of a gang of Filipino pylon-builders are called upon. The new power line was one of the most objected-to construction projects in recent history. 'I feel quite bitter that it's been imposed on us,' says Sir John Lister-Kaye, who lives near the line.
It's not all new technology. One of our oldest forms of renewable energy - hydroelectric power - is being worked harder than ever in the bid to get more of our electricity from clean, green sources. But the dams, lochs and turbines of the hydroelectric power system don't run themselves. High in the hills above Loch Lomond, Bobby Bennett and his team of 'watermen' are digging a ditch to make sure every drop of water that falls on the hills here makes its way down to the turbines below.
Alastair Stephen, the company's in-house ecologist, is trying to make sure that young salmon - known as smolts - are able to make their way past the dams of the hydroelectric schemes. He and colleagues from the Fisheries Board decide to take drastic action when they find out not enough young salmon are making it past the dams. They set up a fish taxi service, transporting the salmon downriver by road, to give them a chance of making it out to sea.