Main content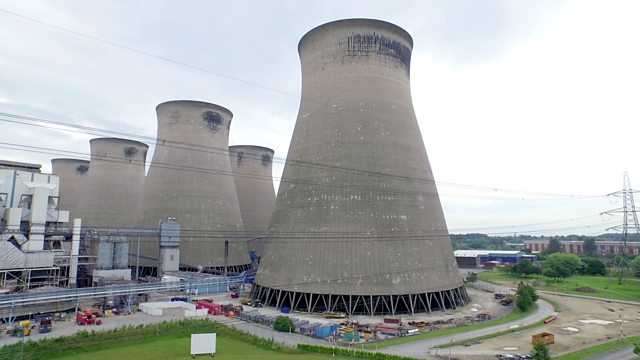 Series going behind the scenes at energy company SSE. This episode looks at one of Britain's biggest - and oldest - power stations, Ferrybridge C in Yorkshire.
We take electricity for granted - never giving a second thought to how it's made. In this observational documentary series, one of Britain's controversial Big Six energy companies, SSE, has let the cameras in. Filmed over a year, this is the surprising story of an army of workers battling to keep our power flowing.
It's a battle that matters to all of us, with future blackouts possible. Once, we had a healthy surplus of electricity, but now, as we close down old power stations, the margin between what we generate and what we use is smaller than ever. This episode goes inside one of Britain's biggest - and oldest - power stations, Ferrybridge C in West Yorkshire, as it struggles to stay switched on.
Ferrybridge once produced almost 5 per cent of the entire nation's power, but as a coal-fired plant, the future for the power station - and its 180 staff - is now uncertain.
Ken Valentine is the maintenance controller, and has worked at Ferrybridge for more than 30 years. 'When I retire and leave here, I want this place to keep going,' he says. 'Because it's an asset to the country. It makes electricity and the world runs on it, doesn't it?'
But Ferrybridge is hit first by a fire, and then misses out on a crucial contract. The company's chief executive, Alistair Phillips-Davies, faces a decision. 'I think the writing's on the wall for UK coal,' he admits.
Meanwhile, we follow technicians being flown out by helicopter to the company's latest big-ticket investment - the world's second largest offshore wind farm, Greater Gabbard, a £1.7 billion array of 140 wind turbines, fifteen miles off the Suffolk coast. Ken Valentine isn't impressed though. 'Wind's great, but it's not windy all the time, is it?' he says.
With coal stocks running low at Ferrybridge, and the maintenance budget being cut, can the power station keep pumping out the electricity we need, or will it be switched off for good? And if it's closed down, can we keep the lights on?
More episodes
Previous
You are at the first episode