Main content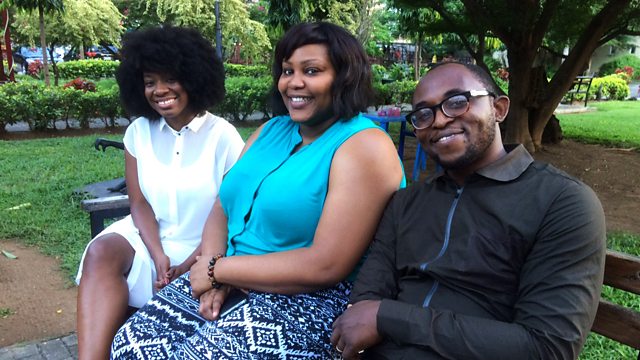 Suffering and Smiling
Wana Udobang meets the writers and poets reflecting contemporary Nigeria - from 419 scams and the Chibok schoolgirls' kidnapping to the crazy, creative hustle of Lagos.
A portrait of Nigeria, seen through the eyes of a new generation of writers and poets.
In the first of two programmes spoken word poet Wana Udobang introduces us to Lagos: her home city, a megacity, an economic powerhouse and, according to its resident writers, the craziest, most congested, most entrepreneurial, hustling, joyful, energetic and creative space in Africa. Fela Kuti captured the essence of Lagos in his song Shuffering and Shmiling'.
As she travels around Lagos, Wana considers how writers are reflecting the issues and concerns of contemporary Nigeria. When Boko Haram kidnapped 270 schoolgirls from Chibok in northern Nigeria April 2014, poet Titilope Sonuga responded with 'Hide and Seek', which captured the country's shock and outrage. But the poem also asked the nation to take a long, hard look at itself, asking how it created the conditions which led to the kidnapping.
Another issue for which Nigeria has achieved notoriety are 419 scams. These were originally e-mails from fraudsters who inveigled their victims into parting with their banks details but now '419' has become shorthand for any fraud in Nigeria. Writer Adaobi Tricia Nwaubani explains how 419 scams became the subject of her humorous first novel 'I Do Not Come to You by Chance'.
In Balogun Market in the heart of Lagos, Wana Udobang considers how Nigerians navigate by language, slipping in an out of character, dialect and language according to the circumstances. And this flexibility is reflected in poetry too. Efe Paul Azino and Dike-Ogu Chukwumerije consider the role of poets in holding politicians and society to account.
Wana meets two writers who, in different ways, explore Lagos in their work. Toni Kan's first memory of visiting the city was of seeing a corpse by his front gate. Now, he says, he couldn't live anywhere else and it's the setting for his latest novel, 'Carnivorous City'. Meanwhile, at Yaba Neuropsychiatric Hospital Wana meets doctor and poet Dami Ajayi. In his day-to-day work he works with people who've become casualties of the city's fevered, frenetic pace and, in his poetry he reflects on those whose minds have become fractured by life in Lagos.
'Writing a New Nigeria' is produced in partnership with the British Council as part of UK/Nigeria 2015-16
Producer: Jeremy Grange.