Main content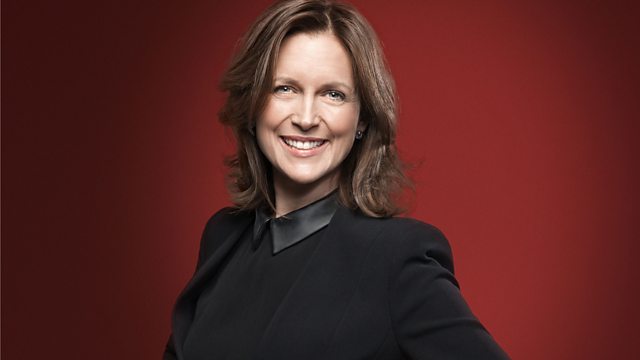 Herold - Le Pre aux Clercs
Katie Derham introduces a performance given at the National Opera House in Wexford of Herold's 1832 three-act opera Le Pre aux Clercs.
with Katie Derham. Today's opera matinee is a recording from the National Opera House in Wexford of Hérold's 1832 three-act opera, Le Pré aux Clercs. It was his final triumph - he died a few weeks later, aged 42 - and tells the story of three women and their love intrigues. It had over 1500 performances in Paris alone in the 19th century.
2pm
Ferdinand Hérold Le Pré aux clercs (The Clerks' Meadow)
Marguerite de Valois ..... Marie Lenormand (mezzo-soprano)
Isabelle Montbal ..... Marie-Eve Munger (soprano)
Nicette ..... Magali Simard Galdès (soprano)
Baron de Mergy .... Nico Darmanin (tenor)
Comte de Comminges ..... Dominique Coté (baritone)
Cantarelli ..... Eric Huchet (baritone)
Girot ..... Tomislav Lavoie (bass)
L'exempt du guet ..... Jan Capinski (bass)
Le Brigadier ..... Felix Kemp,
Archer 1 ..... David Howes
Archer 2 ..... Sheldon Baxter
Wexford Festival Chorus
Wexford Festival Orchestra
Jean-Luc Tingaud (conductor)
15.50
Braunfels: Symphonic Variations on a French Children's Song
BBC Concert Orchestra
Johannes Wildner (conductor).
Synopsis
Act 1
It is 1582 in France during the Wars of Religion, ten years after the St Bartholomew's Day Massacre. At a country inn near Étampes the innkeeper Nicette, and Girot, a hotelier at the Pré aux clercs in Paris (famous for duels and lovers' trysts), celebrate their engagement. Nicette's godmother is Marguerite de Valois, sister of Henri III, king of France, and the wife of Henry, king of Navarre. A Roman Catholic, she was forced to marry the Protestant king of Navarre in order to pacify the religious wars. Marguerite has returned to Paris from Navarre and is detained at the Louvre Palace as a hostage of peace between her husband, anxious to strengthen his claim to the throne of France, and her brother. She is accompanied by her lady-in-waiting, Isabelle de Montal, a young countess in love with Baron de Mergy, who is also from Navarre.
The king of Navarre has sent Mergy to France to bring Marguerite and Isabelle back. The engagement celebrations are disturbed by the king's knights who attack Mergy at the inn where he is breaking his journey, but he is aided by Cantarelli who recognises Mergy as the man who saved him during the Siege of Bergerac. Cantarelli is the director of the court festivities at the Louvre and he tells Mergy that Isabelle is resisting the advances of Comte de Comminges, a royal favourite and formidable swordsman. Mergy leaves to watch the royal hunt and Comminges arrives at the inn, angry at having been delayed by fighting a duel. He tells Cantarelli that he killed his challenger. They join the royal hunting party and Marguerite and Isabelle leave the hunt and visit Nicette. The queen is concerned at Isabelle's unhappiness, but has to tell her that it has been decided she should marry Comminges. Appalled by this news, Isabelle's distress attracts Mergy and they embrace. Comminges is suspicious of Mergy, who is protected by his ambassadorial status; the hunt leaves for Paris, and Marguerite invites Nicette to the palace to receive her dowry.
Act 2
In the Louvre Marguerite concocts a plan for Isabelle and Mergy, who are both Protestants, to marry secretly and escape to Navarre. Nicette and Girot will also get married at the chapel of the Pré aux clercs on the same day. Cantarelli is persuaded – blackmailed – into helping them. However, Comminges confronts Cantarelli with his suspicions that there is a conspiracy to rob him of Isabelle, and threatens him. Cantarelli misleads him, saying that Mergy's secret love affair is with Marguerite, not Isabelle. Then the order comes through: Mergy must return to Navarre but Marguerite and Isabelle will not be permitted to leave France. Isabelle, a Protestant, must marry Comminges, a Roman Catholic, for political reasons, as Marguerite had to marry Henry. In despair, Mergy challenges Comminges to a duel. The queen is determined that both weddings should still go ahead.
Act 3
At the Pré aux clercs, across the Seine from the Louvre, Nicette and Girot are celebrating their marriage. Mergy and Isabelle are married in secret and Cantarelli arrives with their safe-conduct passes so they can escape. But there is danger, for Comminges is going to fight a stranger in a duel. He and Mergy fight and Comminges learns that it is Isabelle whom his opponent not only loves but has married. Comminges is killed and his body put on a boat. Isabelle faints as she sees the boat passing by, but her husband reappears, alive after all, and he and Isabelle escape to Navarre with Cantarelli as their guide.
- With thanks to Wexford Opera Festival.