Main content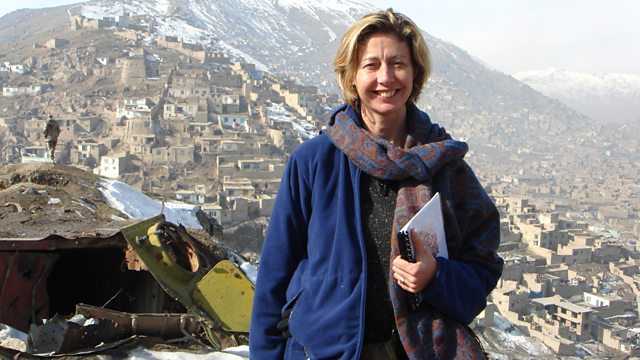 Christina Lamb
Michael Berkeley's guest is journalist Christina Lamb. Her musical selections include tabla from Pakistan and percussion from Brazil, plus Clara Schumann, Tchaikovsky and Puccini.
Christina Lamb is one of Britain's leading foreign correspondents. As a young journalist barely into her twenties, she went to live with the Afghan Mujahidin fighting the Russians; her dispatches saw her named Young Journalist of the Year in the British Press Awards in 1988. Since then she has travelled by canoe through the Amazon rainforest, reported undercover from Zimbabwe, infiltrated a crime syndicate in Brazil, and survived an ambush by the Taliban. She has won Foreign Correspondent of the Year five times as well as the Prix Bayeux, Europe's most prestigious award for war correspondents. She's currently Chief Foreign Correspondent for the Sunday Times, and the author of several best-selling books, including a new book about her time in Afghanistan, 'Farewell Kabul'. During this last year she has been reporting on the refugee crisis in Europe, from detention camps in Libya and rescue ships in the Mediterranean.
It's an extraordinary career, and it all started completely by chance when she was a young intern - with a surprise wedding invitation from Benazir Bhutto.
In Private Passions, Christina Lamb talks to Michael Berkeley about the pressures and pleasures of her working life, and vividly describes encounters with critical danger. She was on the bus with Benazir Bhutto when a bomb exploded, killing more than a hundred people. She chooses music which transports her back to the countries she has lived in: tabla music she first heard in a bazaar in Pakistan, and drumming she danced to in the Rio Carnival. She has recently discovered the music of Clara Schumann, and Tchaikovsky's The Seasons in a brand-new recording by Lang Lang. And Maria Callas singing in Tosca is a must - it's the soundtrack for the first time she met her Portuguese husband.
A Loftus Production for BBC Radio 3
Produced by Elizabeth Burke.
Six mind-expanding music podcasts to download in 2019
Archive Unlocked: Two Decades of Private Passions