Main content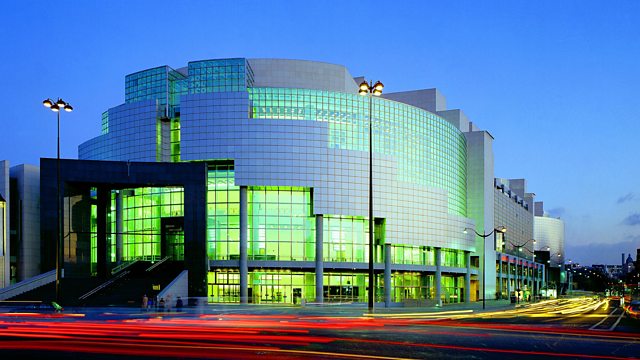 Chausson's Le roi Arthus
A Paris Opera performance of Chausson's opera Le roi Arthus, with a cast including tenor Roberto Alagna, baritone Thomas Hampson and soprano Sophie Koch. Philippe Jordan conducts.
Jonathan Swain presents a performance of Chausson's opera Le roi Arthus from the Paris Opera, recorded earlier this year at the Opéra Bastille and conducted by Philippe Jordan. The cast includes tenor Roberto Alagna as Sir Lancelot, baritone Thomas Hampson as King Arthur, and mezzo-soprano Sophie Koch as Queen Guinevere. Chausson's little-known opera is based on the King Arthur legend, the love triangle between King Arthur, his wife Queen Guinevere and her lover Sir Lancelot - a tale of sword and sorcery, myth and magic. Jonathan Swain talks to French opera specialist Sarah Hibberd about Chausson's interest in the Arthurian legends, and they discuss the great influence of Wagner on Chausson's music in this sumptuous score.
Arthus ..... Thomas Hampson (baritone)
Genièvre ..... Sophie Koch (mezzo-soprano)
Lancelot ..... Roberto Alagna (tenor)
Lyonnel ..... Stanislas de Barbeyrac (tenor)
Merlin ..... Peter Sidhom (baritone)
Mordred ..... Alexandre Duhamel (bass)
Allan ..... François Lis (bass)
A Worker ..... Cyrille Dubois (tenor)
A Knight ..... Tiago Matos (bass)
An Equerry ..... Ugo Rabec (bass)
Paris Opera Chorus
Paris Opera Orchestra
Philippe Jordan (conductor).
Synopsis
Act 1
Arthur has led his knights to victory against the Saxons, and the opera opens with him, mid-speech at the victory celebrations. As he congratulates all who fought, the Bards commemorate the events in their laudatory verses, and the knights cheer. Only two shadows fall over this joyous scene: the absence of Merlin – can he be among the fallen? – and the presence of the poisonous Mordred. Coveting Arthur's crown, he seeks to undermine him and all who love him; so when Arthur singles Lancelot out for special praise, Mordred spreads dissent among the knights about him. Arthur reprimands him for mocking the hero, which only adds to his bitterness. He is watchful, vigilant. Lancelot's brief exchange of words with the Queen, Guinevere, does not escape him. He guesses at once that they are in love, maybe arranging to meet later. As he himself was once rejected by Guinevere as a lover, he sees a way noe to combine sweet revenge with 'duty' to his king by exposing the couple.  
The scene closes as Guinevere leads the women from the hall: they leave the knights to their feast.
Each scene in this drama opens in direct contrast to the close of the previous one. Anxiety follows triumph, sorrow follows joy. Scene 2 opens with foreboding: the fears of Lyonnel, Lancelot's most devoted follower. He laments Lancelot's infatuation with the Queen. Once, this knight was a paragon, an example to all other members of the Round Table; now he is nothing more than a madman – forgetful of everything but Guinevere. He even neglects the chivalrous code, the knightly virtues. Nonetheless, Lyonnel is loyal, and decides to keep watch all night to protect the adulterous couple from Mordred.
Lancelot and Guinevere appear, transported by their blissful dream of love. Their duet soars to the heights, then slowly, entwined around each other, they fall asleep.
Dawn approaches and the watchmen herald the sunrise. Lyonnel attempts to rouse Lancelot and persuade him to leave before life stirs in the castle. His master is groggy and unwilling, and too slow to escape detection by Mordred. He has stalked them all night, and the moment he sees them he calls for help. Lancelot instinctively attacks him, and only when Mordred falls to the floor does he realise the gravity of his act: to attack another knight in this way is his most serious transgression yet. As he rues his actions, Guinevere's very different reaction reveals for the first time that in this version of the tale she is no weak and innocent Queen, but a calculating politician driven by her love, but governed by self-preservation. She hopes that Lancelot has killed Mordred and silenced him forever.
Act 2
At the edge of the woods, Lancelot overhears a ploughman's song. This ploughman is somehow mystical, an earth figure of life and death: his sombre song of deaths and battles contributes to Lancelot's unsettled mood. He reflects on how far he has fallen from grace and his latest terrible act. He knows himself to be powerless in the presence of Guinevere, and recognises that no matter how often he may contemplate leaving her, she rules him.
Guinevere presently appears in great excitement. She says that Mordred has denounced them, and carries the majority of the knights with him. Only Arthur rejects his accusation, and craves to hear from Lancelot himself that it is false. Guinevere demands that he return to the court to brazen it out – for her own honour's sake. He is horrified at the prospect of lying openly to his beloved King, but she mercilessly goads him, stooping so low as to remind him that the simple fact of their adulterous love already makes him a perjurer. What is another lie more or less? At this point Lancelot almost reaches the point of denying her and tries to leave – but he cannot.  He turns back, and capitulates, agreeing to lie to Arthur. Suddenly an alternative suggests itself: they need not go back to Arthur at all – they could flee to Lancelot's castle and live there openly in the full joy of their love.
The ecstatic close of the last scene collapses into the turbulent state of affairs back at Carduel. The knights are restless, fractious; Mordred's injuries, the accusations that have been flying, the King's disturbed state of mind – all add to their uncertainty. Arthur appears and, having realised that Lancelot has not yet returned, demands to be left alone. He reflects on his misery, and calls repeatedly on his absent friend and mentor Merlin. At last he is rewarded by a vision of the wizard, ensnared and inert in an orchard.
Merlin brings no consolation: he foretells the downfall of the Round Table, the failure of all his and Arthur's great enterprises. Arthur, downcast, returns again and again to the same question – are Lancelot and Guinevere innocent? Merlin's silence is his only answer, and after the vision has ended, Arthur, his rage mounting, summons his knights to war.
Act 3
Lancelot has had to meet Lancelot in battle, and as the former friends fight, Guinevere waits nearby attended by an old retainer, Allan. It becomes clear that she has had to work very hard on Lancelot to force him to fight: everything hangs on his triumph. Her musing is disturbed by Allan who has seen a group of knights riding towards them – Lancelot among them. She believes he must be wounded if he has left the battlefield and rushes to him. Discovering that he is perfectly well, she is furious, especially when he explains that he has finally come to his senses. He was fighting, intoxicated with the battle, attacking his former friends, but then suddenly he caught sight of Arthur, majestic and tall, and realised the madness of what he was doing. Now he is resolved to try and stop the battle and accept Arthur's justice. Guinevere despairs of this last failure of nerve – as she sees it. She alternately rails at and cajoles him, much as she has done successfully before, trying desperately to win him around once more. She fails: this time his love for Arthur overrides his passion for her: his resolve is firm. She scorns his invitation to share his fate.
He leaves, having instructed Allan to arrange safe passage for Guinevere to France, where she will be safe. But, Lancelot lost, what does she have to live for? She dismisses Allan, then – using the only 'weapon' to hand – her luxuriant hair – she strangles herself.
In the aftermath of the battle, a group of soldiers come across Lancelot's body. They remember him as he was in his most glorious days, and also as the fallen knight. At some point, they realise he is still alive – Lyonnel is already bringing the King, who arrives.
Lancelot revives, but does not at first see the King. He relives the terrible moments of the day, and desperately calls for Arthur. Before he dies he does at last see his King. Arthur forgives him.
Alone now, his world in ruins, Arthur desperately craves the solace of sleep, and he begs the Lord for this one last gift. A chorus of celestial beings sings from afar, and as their consoling words become clear, Arthur hears that his wish has been granted. He will enjoy a unique fate – not death, but a long balmy sleep until the day comes for him to rise again and fight for the just cause. A splendid boat approaches the shore, and Arthur, having cast his weapons Excalibur and Pridwann into the depths of the sea where none will disturb them more, climbs aboard. He is last seen, transfigured and asleep in the blazing light of the sun.