Main content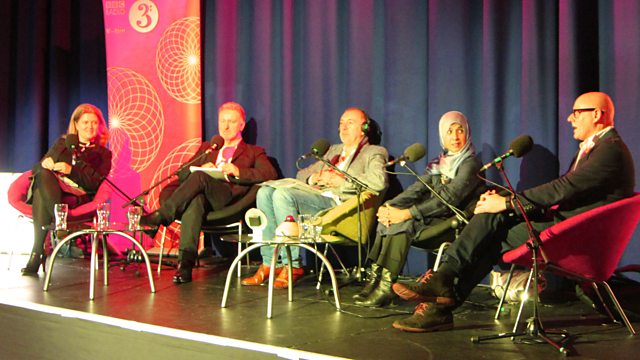 Breathalysing Britain: Free Spirits Or a Drain on Society?
Addiction expert Dr Sally Marlow gives a talk about our attitudes to alcohol. She then joins a debate with Professor Barry Smith, David Yelland and Shelina Zahra Janmohamed.
Every day we read lurid headlines about alcohol abuse and the consequences of binge drinking for the young at home and abroad. But a deeper look reveals a complicated picture of alcohol use in Britain. Champagne is still linked with celebration, while pubs are closing up and down the country. University freshers' weeks are adjusting to reflect the increasing number of students who are teetotal - but doctors are reporting a rise in patients with liver damage. How should society accommodate people who drink to excess and those who don't want to drink at all?
Dr Sally Marlow from King's College, London is an expert in addiction. In a specially commissioned Free Thinking talk she explores the hypocrisy in society around alcohol.
Joining the debate chaired by Free Thinking presenter Philip Dodd are:
Professor Barry Smith - philosopher from the University of London's School of Advanced Study and wine columnist for Prospect magazine.
David Yelland - former editor of the Sun and a Trustee of Action on Addiction and Patron of the National Association for Children of Alcoholics.
Shelina Zahra Janmohamed, author of Love in a Headscarf and Muslim women's activist, who blogs at Spirit 21 and who is a lifelong teetotaller.
Recorded in front of an audience at the Free Thinking Festival at Sage Gateshead.
Credits
| Role | Contributor |
| --- | --- |
| Interviewed Guest | Sally Marlow |
| Presenter | Philip Dodd |
| Interviewed Guest | Barry Smith |
| Interviewed Guest | David Yelland |
| Interviewed Guest | Shelina Janmohamed |
| Producer | Torquil MacLeod |
Featured in...
Peter Singer, Cordelia Fine, Garry Kasparov, AI and Algorithmns, Tim O'Reilly

Programmes and clips from the Radio 3 Free Thinking Festival of ideas, 6-8 November, 2015