Main content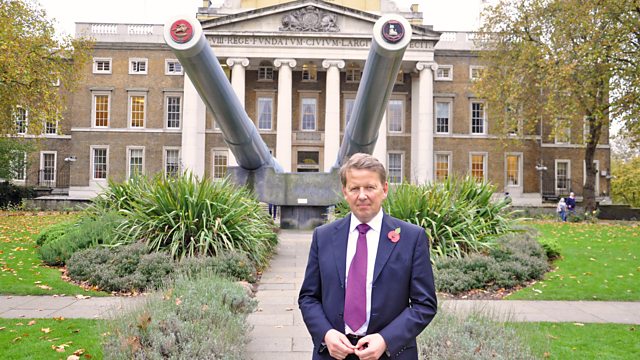 08/11/2015
Bill Turnbull presents a special Remembrance programme from the Imperial War Museum, including the story of soldier Martyn Compton who survived a Taliban rocket attack to become a racing driver. Prince William described him as "inspirational".
Clips

Music Played
Timings (where shown) are from the start of the programme in hours and minutes
Stories
Veteran's Story - Martyn Compton
Bill Turnbull meets the Afghanistan veteran who nearly a decade after suffering horrific burns in a Taliban rocket attack is rebuilding his life as a motor racing driver.
Thirty one year old Martyn suffered 75 per cent burns in the attack in which three of his comrades were killed in Helmand Province in August 2006. 
Prince William, who served in the Royal Household Cavalry at the same time as Martyn, has described him as "an inspiration" and invited him and his wife Michelle to his wedding at Westminster in April 2011.
Footage of Martyn Compton competing for Team Brit at Silverstone was provided courtesy of Scruffy Bear Pictures.  For further information, please visit www.scruffybear.com
Poppies
Twelve months on from the breathtaking poppy display at the Tower of London, Pam Rhodes meets up with its creator and discovers the remarkable story of why those ceramic poppies hold special memories for two Christians.
Artist Paul Cummins, who is behind a new touring exhibition of the poppies display at the Yorkshire Sculpture Park, meets Lesley Lundgren, the daughter of RAF pilot Flight Lieutenant Harry Chapman who was killed in World War Two.
In memory of her dad, Lesley bought two of the poppies auctioned for charity from the London display and, along with her dad's brother Allan, they thank Paul Cummins for coming up with the concept.
Bikers Blessing
Ten years after she lost her brother Bob when his RAF Hercules was shot down over Iraq, Sarah O'Connor joins 6,000 bikers as they pay tribute to fallen comrades and loved ones at the National Memorial Arboretum in Staffordshire.
Sarah's journey to the Ride to the Wall event has special significance.  Her brother, Sergeant Robert O'Connor, was a huge fan of motorbikes and he is the only person to have ever been granted a funeral at the Arboretum.
Sarah takes part in a special service of remembrance and pays tribute to her brother at the bench dedicated to him in the grounds of the Arboretum.
 The Last Post
The Last Post is one of the defining elements of every Remembrance Sunday but it was originally a functional signal to mark the end of the working day of an army camp. 
That all changed in 1919 when King George V ordered that a two minute silence be observed to mark the first anniversary of the end of the Great War.  And the moment was brought to an end with the playing of the Last Post.
Nearly a century on, it has become one of the most emotionally charged pieces of music at public ceremonies. 
A member of the Royal Marines Band, Corporal Bugler Nathan Crossley, explains what makes the Last Post such a special piece of music and performs his own rendition as tribute to all those who have lost their lives serving their country.
Hymns
I Vow To Thee, My County was performed by the choirs and congregation of The Royal Garrison Church of All Saints, Aldershot.
Thy Hand, O God, Has Guided was performed by the congregation of St Mary's Church, Warwick.
We Will Remember Them was perfomed by the Exultate Singers at St Alban's Church, Bristol.
Eternal Father, Strong To Save was performed by the congregation of St Alban's Church, Bristol.
O God, Our Help In Ages Past was performed by the congregation of Salvation Army, Sale.
For All The Saints was performed by the congregation of St Macartin's Cathedral, Enniskillen.
The Last Post was performed by Corporal Bugler Nathan Crossley at the Imperial War Museum, London.
Credits
| Role | Contributor |
| --- | --- |
| Presenter | Bill Turnbull |
| Presenter | Pam Rhodes |
| Series Producer | Matthew Napier |
| Executive Producer | Dave Stanford |