Main content
Mountain Hares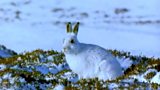 Euan heads into the hills with researchers trying to establish the health of the Mountain Hare Population. The team use a range of techniques for counting the Hares including, trapping, dung counts, lamping and high-tech night vision goggles.
Cheese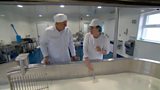 Nick visits Barwheys dairy in Ayrshire – winner of the best speciality Cheese at this year's Royal Highland Show. The Dairy is run by Tricia Bey who has combined her business skills with her passion for great cheese. Nick follows the Cheese making process before taking a wedge of cheese to create a dish in the Landward Food Van.
Salmon Leather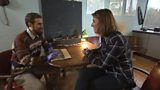 Sarah visits the Tayside Tannery in Dundee where they are turning Salmon skin in to a range of leather products. Founder of the Tannery, Peter Ananin, takes Sarah through the process of turning a fishy skin into luxurious leather.
Silage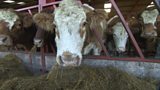 Dougie investigates why some cattle may look healthy but may in fact be under-nourished. The poor weather this year means that some silage around the country does not contain as much protein as it should. Farmers are being urged to have the protein content of their silage tested to avoid problems with their cattle over the winter.
The Landward Food Van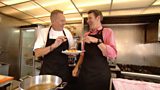 Dougie and Nick take the Landward Street Food Van into the centre of Ayr where Nick creates melting Cheese balls with an award winning cheese from Barwheys dairy in Ayrshire.
Credits
| Role | Contributor |
| --- | --- |
| Presenter | Dougie Vipond |
| Presenter | Euan McIlwraith |
| Presenter | Nick Nairn |
| Executive Producer | Rachel Bell |
| Executive Producer | David Harron |
| Series Producer | Simon Cousins |