Main content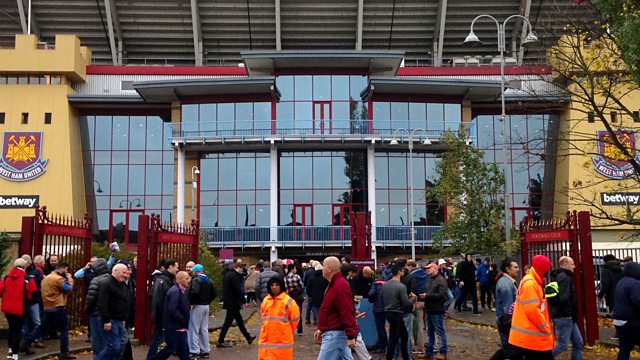 Goodbye to Boleyn
West Ham FC have occupied the Boleyn Ground in Upton Park since 1904. This is its final season. Alan Dein chronicles the life of the streets that surround it on match day.
The Boleyn Ground, Upton Park. Home to West Ham since 1904. No one would call the stadium, or indeed the streets that closely bind it in the borough of Newham, beautiful but it has echoed to one of football's oldest anthems 'I'm Forever Blowing Bubbles' since the 1920's. Now that song and the stones & grass that have been an arena for legends like Hurst, Moore & Peters will not just fade and die but be demolished. Very soon the club will move from E13 to E20 & the Queen Elizabeth Olympic Park, no longer owners but tenants in a very different space. Match days around Green Street and the other roads that bind the stadium to the area will be like every other day. But for these last few months the pavements still reverberate to the returning tribes of Essex, their family ties strong in a place that has greatly changed since Bobby Moore and his other '66 immortals made West Ham a global name.
Amidst the throng on match day, Alan Dein weaves his way through the streets to chronicle lives enfolded by the stadium. On the corner of the ground stands Our Lady of Compassion, in fact it was the church that originally sold the ground to the club. Now their Saturday services are shaped by the footfall of match day. Directly opposite the stadium live two nuns with a new found affinity for the Claret & Blue. Standing on a step ladder, shouting to the arriving crowds a scary looking skinhead offers wise insight into the passing of time and place. Inside Queen's Market, flogging his apples and pears, Bradley is waiting until the clock hits 2.30 before he pulls on his replica shirt and dives out into the thickening crowds making their way towards the big match.
Producer: Mark Burman.
Sister Immaculata and Sister Patricia who live near the stadium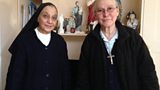 Gary Firmager, Editor of the West Ham fanzine `Over Land and Sea'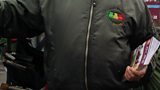 Shop Owner Konesh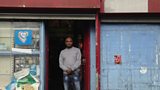 Programme sellers Alan, Mercy and her son