Main content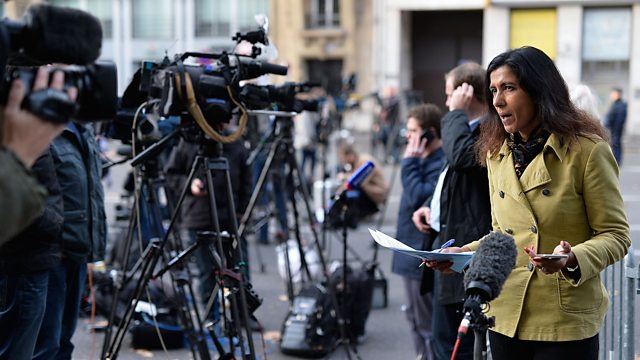 Media coverage of events in Paris, Tory MP Jesse Norman on BBC Studio concerns
The programme looks at how the media mobilised crews to cover events in Paris, and MP Jesse Norman explains why he's written to Lord Hall with concerns about BBC Studios proposals.
A series of co-ordinated attacks in Paris on Friday night have resulted in the deaths of at least 129 people. Media outlets quickly mobilized with blanket coverage across television, radio, newspapers and social media. How do the news media outlet co-ordinate and respond to such a breaking and dangerous situation? How do you decide what is a proportionate amount of coverage? And with so many unconfirmed reports, how can you be sure of the reliability of your story? Steve Hewlett discusses the pitfalls and challenges with a panel of guests; John McAndrew from Sky News', the BBC's Gavin Allen, Professor of TV journalism Stewart Purvis, Jeremy Griffin from The Times and Ryan Broderick from Buzzfeed UK.
The chair of the Commons culture, media and sport select committee has written to BBC director general Tony Hall about his concern over the corporation's plans to spin off its TV production arm into a separate commercial unit and create BBC Studios. Conservative MP Jesse Norman, who replaced John Whittingdale in May, says he has asked Lord Hall about the impact on commercial rivals and the production sector. He tells Steve Hewlett why its important for the public to be fully consulted over the creation of the new subsidiary.
Producer: Katy Takatsuki.