Main content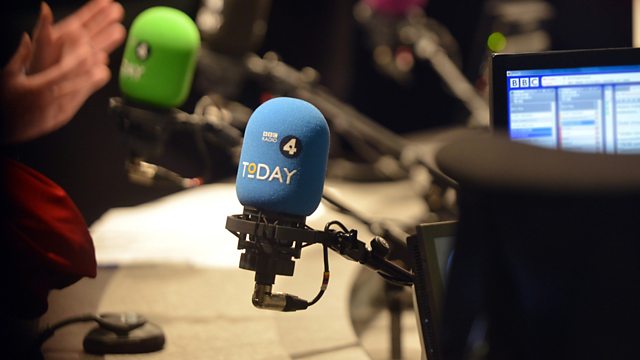 16/11/2015
Morning news and current affairs. Including Sports Desk, Weather and Thought for the Day.
Last on

Today's running order
0650
A consistent theme this weekend in France has been the sense that for all its suddenness, and the shock of the casualty list, these attacks were predictable.  Yet when it came it couldn't be stopped. Jim Naughtie is in Paris speaking to Anne Giudicelli, a former security analyst at the French foreign office, who now runs the global risk consultancy Terrorisc.
0710
Yesterday the Prime Minister said "our safety and security depends…on degrading and ultimately destroying" what he called this "death cult" of so-called Islamic State. But what will that involve? World leaders are meeting at the G20 summit in Turkey today. David Cameron is speaking from that summit in Antalya.
0715
The car used in Friday's attack to go on a shooting spree around several Parisian restaurants and bars was later found abandoned in eastern Paris. Our chief correspondent Matthew Price is there.
0730
We catch up first with the latest developments in Paris from our Europe correspondent Chris Morris, and we are Joined by Asiem ef-Difraoui, who advises French government on counter-terrorism.
0740
When so many die - 129 so far - it's all too easy to focus on the number, not the individuals. We take a moment to hear just a few of the tributes that have been paid to those whose loved ones died in Paris.
0750
Police across Europe are hunting the only gunman known to have escaped after the Paris massacres. He is not from France but from Belgium which, compared to its population, has sent more fighters to Syria than any other European nation. Nick Robinson spoke to Nathalie Gallant - a Belgian lawyer who represents some of the families of Belgian jihadis.
0810
In the past fortnight or so the forces of the so-called Islamic State appear to have not just brought terror to Paris, but also seem to have destroyed a Russian passenger plane over Egypt killing 224 and murdered 43 people on a street in Beirut. James Naughtie has been speaking to Prime Minister David Cameron, who is at the G20 talks in Antalya, Turkey.
0820
After every outrage the same questions are asked - what more could have been done to stop it? Already some are highlighting "deadly blunders" made both before and after the Paris Attacks. This morning the British government is promising more intelligence, more surveillance and more money to protect us - but will it work? We are joined by former Met Police commissioner Lord Blair.
0830
The Paris attacks have very strong parallels with a bombing in Beirut last week and shows how IS claims responsibility for attacks on targets associated with those countries attacking it in Iraq and Syria. Speaking on the programme is BBC correspondent Quentin Somerville in Northern Iraq and Tom Fletcher, former British ambassador to Lebanon.
0840
James Naughtie has been speaking to author Bernard-Henri Lévy about what he had made of the response so far to Friday's attacks.
All subject to change.
Broadcast