Main content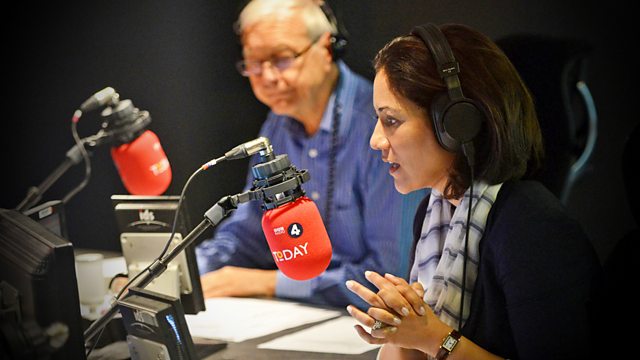 11/11/2015
Morning news and current affairs. Includes Sports Desk, Yesterday in Parliament, Weather and Thought for the Day.
Today's running order
0650
The Indian Prime Minister Narendra Modi starts a visit to this country tomorrow, in which the focus will be on the trading relationship between one of the world's fastest growing economies and the former colonial power. The BBC's South Asia correspondent Justin Rowlatt reports.
0655
The NHS faces a steep bill as residential care homes shut their doors forcing hospitals to care for the elderly, according to a report from the independent think tank ResPublica. Phillip Blond is director of economic and social policy think-tank, Respublica, and co-author of its report Care Collapse.
0710
The Prime Minister says that making a success of the post-euro European Union can be expressed in one sentence: it has to be possible for a country to be as successful outside the euro as in it. Olli Rehn is minister for economic affairs in Finland, and the former European commissioner for economic and monetary affairs.
0720
Ciudad Juarez in Mexico was once known as the world's murder capital. The journalist Sandra Rodriguez Nieto chose one particular story as the subject of a book she's written about the city - the story of a teenage boy who grew up surrounded by violence and ended up murdering his own family. Tom Bateman reports. 
0730
Sainsbury's half-year results are out today. On Monday the boss of Tesco said that retailers were facing a "potentially lethal cocktail" as profits slump but costs rise because of business rates and the national living wage. Mike Coupe is chief executive of Sainsbury's.
0740
European leaders meet in Malta today to try to offer support for Africa and reduce the number of migrants flowing from the continent. Katya Adler is the BBC's Europe editor.
0750
Alan Bennett's novel The Lady in the Van has now become a film starring Dame Maggie Smith. James Naughtie spoke to Mr Bennett about her remarkable performance and about himself.
0810
The head of Russia's anti-doping laboratory, Grigoriy Rodchenkov, has resigned a day after a report by the World Anti-Doping Agency accused Russia of widespread cheating in athletics. Travis Tygart is CEO of US Anti Doping Agency (USADA) – he pursued allegations of doping in cycling involving Lance Armstrong. We also speak to Debbie Jevans, director of sport for the London 2012 Olympic Organising Committee.
0820
A poem that was written by Percy Bysshe Shelley more than two hundred years ago and considered lost until recently is going on public display in Oxford. Joining us on the programme are Richard Ovenden of the Bodelian Library at the University of Oxford and Dame Vanessa Redgrave, CBE and a friend of the Libraries.
0830
European leaders meet in Malta today to try to offer support for Africa and reduce the number of migrants flowing from the continent. On the programme is Fadumo Dayib, who left Somalia as a teenager with her mother and claimed asylum in Finland.
0840
The Bank of England is holding an 'Open Forum' to look at how "a positive future for financial markets" can be achieved. Robert Peston is the BBC's Economics editor.
0845
The centre-right coalition in Portugal has fallen on the issue of austerity. We're joined by the former leader of one of the governing partiers, Jose Ribeiro Castro.
0855
We often hear about how important quantum physics could be in developing exciting new technologies like superconductors and quantum computers, and in 2013 the government invested £270m for funding research into quantum technologies. Speaking on the programme is Professor Miles Padgett of the University of Glasgow.
All subject to change.