Main content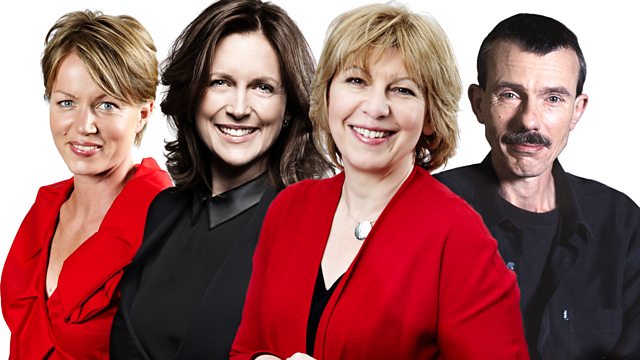 Donizetti - Roberto Devereux
A performance of Donizetti's rarely heard opera Roberto Devereux given at Madrid's Teatro Royal. Bruno Campanella conducts Andres Maspero's new production.
Donizetti's third Tudor opera, Roberto Devereux, is a story of love and deceit, based on a libretto by Salvadore Cammarano (1801-1852). Devereux is the lover of Queen Elizabeth I but Parliament has pushed through a charge of treason against him. The Queen's attempts to save Devereux are frustrated by her suspicions that he loves another. Devereux and Sarah, the Duchess of Nottingham, have been seeing each other for some time, and upon discovery of this fact by both the Queen and the Duke of Nottingham, Devereux must meet an inevitable end. The Queen in turn, is forced to confront her old age and a lonely journey towards her own death, and in a fit of frustration and anger, announces her abdication in favour of Charles I.
Andrés Máspero's new production of Donizetti's rarely heard Roberto Devereux is headed by soprano Mariella Devia as Elizabeth, Queen of England, and tenor Gregory Kunde as Robert Devereux the Earl of Essex, with Marco Caria and Silvia Tro Santafé as the Duke and Duchess of Nottingham, Juan Antonio Sanabria as Lord William Cecil, and Andrea Mastroni as Sir Walter Raleigh, with the chorus and orchestra of Teatro Real, Madrid. The performance is conducted by Bruno Campanella.
2pm
Donizetti: Roberto Devereux
Elizabeth, Queen of England ..... Mariella Devia (soprano)
Robert Devereux, Earl of Essex ..... Gregory Kunde (tenor)
Duke of Nottingham ..... Marco Caria (baritone)
Duchess of Nottingham ..... Silvia Tro Santafé (mezzo-soprano)
Lord William Cecil ..... Juan Antonio Sanabria (tenor)
Sir Walter Raleigh ..... Andrea Mastroni (bass)
A page ..... Sebastián Covarrubias (baritone)
A servant of Nottingham ..... Koba Sardalashvili (bass)
Chorus and orchestra of Teatro Real, Madrid
Bruno Campanella (conductor).
Music Played
Opera Matinee

Ulster Orchestra
Synopsis
ACT 1
London, 1601. At the Palace of Westminster, Sara, Duchess of Nottingham, is in tears while reading a book. Unknown to the other ladies of the court, she is distressed not about the story she's reading but about her own situation—she is in love with Robert Devereux. Queen Elizabeth enters and tells Sara that she has decided to follow her husband Nottingham's advice and receive Devereux, although she is worried that his affections have turned to another woman. Robert has returned from Ireland accused of treason, but Elizabeth is prepared to pardon him as long as he still loves her. Lord Cecil demands that the Queen sign Robert's death warrant, but she tells him she is not convinced of his disloyalty. Robert enters and Elizabeth dismisses the courtiers. She tells him she is ready to pardon him and reminds him of a ring she gave him as a pledge of his safety. But his cool reaction to her talk of their past love increases her suspicions. When she asks directly for the name of her rival, Robert denies that he is in love with anyone else. Now furious, Elizabeth is convinced he has betrayed her. She resolves that he must die and leaves. The Duke of Nottingham arrives to greet Robert, who shrinks from his embrace. Nottingham is worried about his friend's safety but also concerned about his unhappy wife, whom he lately found crying over a blue scarf she was working on. Cecil returns to summon Nottingham to the council meeting that will decide Robert's fate. Before he leaves, Nottingham assures Robert he will do what he can to defend him.
In Nottingham's apartments, Sara thinks of Robert and the danger he is in. He suddenly appears and reproaches her for marrying Nottingham while he was away in Ireland, but she replies that she did so on Elizabeth's orders. Sara in turn reminds Robert that he is wearing the Queen's ring. He tears it off and assures her of his love. Sara implores him to flee and gives him the blue scarf as a pledge of her affections. After a painful goodbye, Robert departs.
ACT 2
At Westminster, the court awaits news of Robert's fate. Elizabeth enters, then Cecil, who announces that in spite of Nottingham's defense the council has decided on the death sentence. Sir Walter Raleigh reports that he has arrested Robert according to the Queen's orders. When searched, Raleigh says, Robert was found to have concealed in his clothes a blue scarf, which Elizabeth now angrily examines. Nottingham brings the death warrant for the Queen to sign but again pleads for his friend and dismisses all accusations as slander. Elizabeth refuses to relent. When Robert is led in, she turns on him furiously and shows him the scarf. Both Robert and Nottingham are shocked. His astonishment quickly turning into a jealous fury, Nottingham calls for his sword. Elizabeth once again demands to know the name of her rival, but Robert won't reveal it. Now blind with rage, Elizabeth signs the death warrant.
ACT 3
Alone in her apartment, Sara receives a letter from Robert in which he asks her to take the ring to Elizabeth and hope for her mercy. Before she can do so, Nottingham appears. He reads the letter, ignores Sara's protestations of innocence, and orders her confined.
In his cell in the Tower, Robert hopes that he will be able to clear Sara's name before his death. When Raleigh appears to take him to his execution, he realizes that all that's left to him is to pray for her in heaven.
The Queen, surrounded by her silent ladies, waits in the great hall at Westminster wondering why Sara is not there to comfort her. In spite of everything, she wants Robert to live and hopes that he will send her the ring, but instead Cecil appears to tell her that Robert is on the way to the block. When Sara runs in with the ring and confesses that she is Elizabeth's rival, the Queen orders the execution stopped, but it is too late: a cannon shot announces Robert's death. Nottingham arrives and Elizabeth turns on him and Sara, demanding to know why they didn't bring her the ring sooner. Nottingham proudly replies her that all he wanted was revenge. Elizabeth orders them both taken away. Haunted by a vision of the beheaded Robert, she now only longs to be free of her role as Queen.