Main content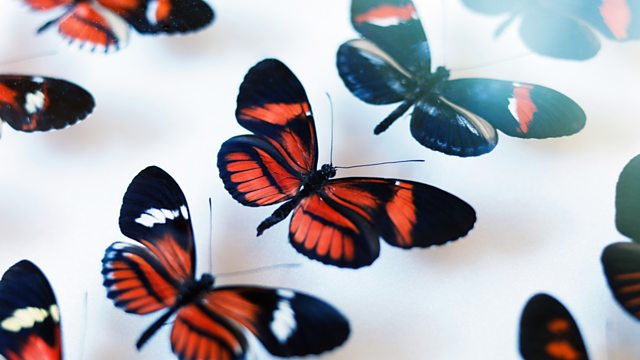 Obsession
John McCarthy considers obsession and the moral consequences of a determined pursuit of a desire, from the butterfly collecting of Nabakov to the intense focus of a ballet dancer.
John McCarthy considers obsession - a single-minded focus on an activity or desire which can lead to great achievement, or to social and moral malfunction.
Charles Darwin recognised in himself that "passion for collecting which leads a man to be a systematic naturalist, a virtuoso, or a miser" and Nabakov explored the murky world of sexual obsession in his novel Lolita but, in his biography, drew on the moral consequences of his own boyhood obsession with butterfly collecting - the desire to pursue his hobby overriding friendship.
In this programme, there are readings from works by Ruth Padel, Helen Macdonald and AE Housman and the former ballerina Deborah Bull talks to John about whether the popular idea of the wilfully determined dancer is an accurate reflection of the world of classical ballet.
The readers are Alice May Feetham, Peter Marinker and Helen Macdonald. Deborah Bull is Assistant Principal (Culture and Engagement), Kings College London.
Producer: Natalie Steed
A Whistledown production for BBC Radio 4
Last on
Music Played
Benjamin Britten

Narcissus, Six Metamorphoses After Ovid

Performer: Sara Watkins.

Tit for Tat.
Meridian.
CDE84119.
14.

Cole Porter

Night and Day

Performer: Ella Fitzgerald.

Ella Fitzgerald Sings the Cole Porter Songbook.
Verve Master Edition.
314 537 257-2.
11 (cd2).

Olivier Messiaen

La Merle Noir

Performer: Matthew Schellhorn (piano), Kenneth Smith (flute).

Chamber Works.
Hyperion.
SIGCD126.
10.

ANTHONY GONZALEZ, MORGAN DAGUENET

Birds

Performer: M83.

Dead Cities, Red Seas and Lost Ghosts.
GOOM.
GOOM 025.
01.

Philip Glass

Knee 1 (Einstein on the Beach)

Performer: Philip Glass Ensemble.

SONGS FROM THE TRILOGY.
CBS.
MK45580.
07.

Pyotr Ilyich Tchaikovsky

Swan Lake: 1 Scene (Act II- No10)

Performer: Scottish National Orchestra - Neeme Jarvi.

Nutcracker – Act II Complete / Swan Lake Selection from the Complete Ballet (8 movements).
CHANDOS.
CHAN 8556.
15.

Gustav Mahler

Adagietto; Symphony No 5

Performer: Wiener Philharmoniker: Leonard Bernstein.

Symphonie No. 5.
Deutsche Gramaphon.
LC 0173.
04.

Erroll Garner

Misty

Performer: Erroll Garner.

Compact Jazz Sampler.
Verve.
831 376-2.
07.
Readings
Title: Look Not In My Eyes
Synopsis: extract from A Shropshire Lad
Author:  AE Housman
Publisher: Penguin Classics
ISBN: 9780140424744


Title: H is for HawkSynopsis: Extract from a memoir about grief and training a goshawk; reading by Helen Macdonald broadcast with permission of Isis Publishing from their audio book.
Author:  Helen MacdonaldPublisher: Jonathan Cape
ISBN:  978-0224097000


Title: Autobiography
Synopsis: Extract from the autobiography of Charles Darwin. He describes his "passion for collecting".
Author:  Charles Darwin
Publisher: Penguin Classics
ISBN: 978-0140433906


Title: The Miser
Synopsis: From the collection, Darwin, A Life in Poems. The author is the great, great grand-daughter of Charles Darwin.
Author:  Ruth PadelPublisher: Vintage
ISBN: 978-0099547051



Title: Speak, Memory
Synopsis: Extract from Vladimir Nabokov's memoir. He describes letting down a friend to pursue his hobby: collecting insects.
Author:  Vladimir Nabokov
Publisher: Penguin Classics
ISBN: 978-0141183220
Broadcasts