Main content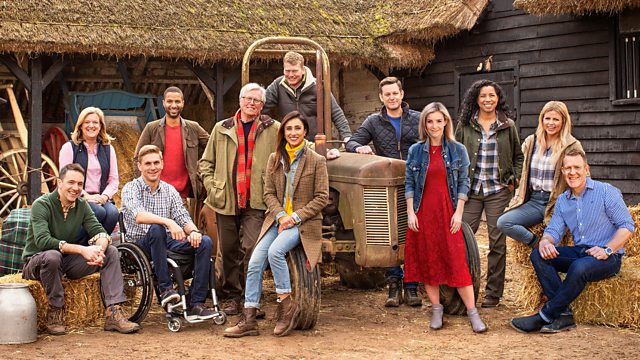 Countryfile's Ramble for Children In Need
In this extended edition of the programme, the team present the first ever Countryfile Ramble for BBC Children in Need, as thousands of people explore the rural landscape.
In this special extended edition of the programme, Countryfile brings you the first ever Countryfile Ramble for BBC Children in Need. For one weekend in the autumn, thousands of people answered the call to ramble through our rural landscape and help raise vital funds for the charity. Our presenters led the way, joined by Countryfile viewers and inspirational youngsters who've been helped by Children in Need.
Matt Baker is on a mountain ramble cum scramble more than 3,000 feet up Tryfan in Snowdonia. Matt's joined by Ella, a youngster who's severely visually impaired but is determined to conquer the mountain and inspire others.
Ellie Harrison is on a six-mile trek along the Jurassic Coast, joined by 14-year-old Grace. Grace was helped by children's bereavement charity Winston's Wish when she lost her dad to cancer six years ago.
Adam Henson takes on an eight-mile hike through the Peak District, accompanied by some teenagers from the Sheffield Young Carers project who look after relatives with long-term mental or physical illnesses.
Anita Rani is joined by hundreds of Countryfile viewers to take a four-mile ramble around Windsor Great Park. With them are children from the Lollard Street Adventure Playground in central London - a safe, green space for inner-city children to play.
John Craven rambles around Loch Leven in Kinross, Scotland, joined by 13-year-old Cameron, who has brittle bone disease.
Tom Heap drops in on some of the sponsored rambles members of the public have been putting on in Northern Ireland.
Tryfan Mountain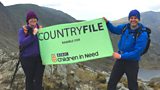 Matt Baker is in Wales taking on Tryfan Mountain in Snowdonia.  At 3012 feet this ramble-come-scramble will test Matt and the Countryfile viewers who're joining him. They start by walking to the Heather Terrace, a boulder-strewn route hugging the side of the mountain, which they must follow to reach the saddle of Tryfan.  From here it's a final push to the summit. For one of the group this is a truly epic challenge.  Severely visually impaired youngster Ella has been supported for many years by Sight Advice, a charity which Children in Need helps fund. Now she wants to show other people with disabilities that, whatever they may be told, living a life without limits is possible. Matt will be Ella's guide for the Tryfan challenge. 
The Jurassic Coast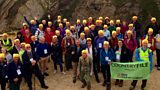 Ellie Harrison and around 70 Countryfile viewers head to Dorset's Jurassic Coast.  Their six mile ramble stretches from Lulworth Cove through to Osmington Mills.  It's a route which combines stunning views, like Durdle Door, with steep cliff climbs that are quite literally breathtaking. Joining the ramblers are 14 year old Grace and her mum. Grace's dad passed away six years ago after a short battle with cancer.  She had help rebuilding her shattered world thanks to the children's bereavement charity Winston's Wish, which receives funding from BBC Children in Need.  Now Grace is an ambassador for the charity. She works to support others and raise awareness of the vital work they do. Weatherman John Hammond, who grew up along this southern coast, also joins the ramble. He explains the geological wonder of this landscape and the truth behind the old adage that sea air is good for you.
The Peak District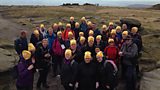 Adam Henson leads a hardy band of Countryfile viewers on the weekend's longest ramble – an eight mile hike through the hills of the Peak District in Derbyshire. Heading up the ancient pack horse route of Jacob's Ladder, which today marks the start of the Pennine Way, the resilient ramblers keep climbing to Kinder Low. At just over 2,000 feet it is the highest point not only of the ramble but of the entire National Park. Guide Kim Hayward explains how the route was part of a mass trespass in the 1930s, when ramblers campaigned for private land to be made accessible for all to enjoy.  This sparked a movement which led to the Peak District being designated Britain's first National Park in 1951. Also out on the ramble are members of the Sheffield Young Carers project which BBC Children in Need supports. The project offers assistance to young people who act as carers for relatives with long term mental or physical illnesses. The charity harnesses the therapeutic power of the rural landscape in its respite work with an annual trek across the Peaks and residential weekends on nearby farms.
Windsor Great Park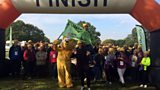 Anita Rani takes a walk in a park with a difference – several hundred Countryfile viewers are keeping her company! By far the largest of our rambles, this regal location highlights a beautiful patch of countryside just 20 miles from our capital city. The four mile route starts at the Long Walk near Windsor Castle and takes in beautiful pasture and woodland.  Anita meets park manager Phil Edwards who is responsible for overseeing the maintenance this 5,000 acre site. Phil reveals that Windsor Great Park boasts the biggest collection of veteran and ancient oaks in Europe - including a 1200 year old oak tree. Showing their support are a couple of special guests – Anita's Strictly dance partner Gleb Savchenko and children from the Lollard Street Adventure Playground in central London – a safe, green place to play which BBC Children in Need helps to fund. 
Loch Leven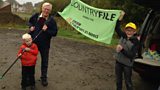 John Craven is in Scotland, at Loch Leven in Kinross. John's ramble shows how the countryside can be accessible to all and that beautiful sights can be found without going off the beaten track. One young man who benefits from this accessibility is 14 year old Cameron who has Brittle Bone Disease and uses a wheelchair. Cameron's family are supported by the Brittle Bone Society and Cameron in particular uses the Cool Bones children's club which is funded by BBC Children in Need. Cameron and his family join John on his four mile ramble around Loch Leven - Scotland's largest lowland loch and a nationally important site for waterfowl. Ranger Neil Mitchell talks John, and the Countryfile viewers joining him, through some of birds found on the site. That's around 50,000 duck, geese and swans.
Northern Ireland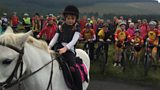 Countryfile's roving reporter Tom Heap is in Northern Ireland catching up with some of the sponsored rambles that people have organised for themselves. Tom meets two different groups both raising money for BBC Children in Need by rambling around Cave Hill – a country park which overlooks Belfast city and is a gateway to the countryside.  Then, near Omagh, he meets another group, not only rambling but also riding – on bicycles and horses – to raise money for the charity. Tom also looks at one of the 200 plus children's charities helped by BBC Children in Need in Northern Ireland – Sticky Fingers in Newry.  This is a place of glitter, glue and play for children - some of whom live in challenging circumstances.  And he discovers how the group has expanded beyond its building into the surrounding countryside by helping to create a magical woodland trail.
Donate to BBC Children in Need
Even if you couldn't take part in the Countryfile Ramble, you can still make a difference by contributing to BBC Children in Need...
To donate £5 text RAMBLE to 70705
To donate £10 text RAMBLE to 70710
Texts cost £5 or £10 plus your standard network message rate. The whole £5 or £10 will go to BBC Children in Need. You must be sixteen or over and please ask the bill payer's permission. Full terms and conditions can be found here. 
Or you can send a cheque made payable to "BBC Children in Need" to...
Countryfile
BBC Children in Need Appeal
PO Box 648
Salford
M5 0LB
Credits
| Role | Contributor |
| --- | --- |
| Presenter | Matt Baker |
| Presenter | Ellie Harrison |
| Presenter | John Craven |
| Presenter | Adam Henson |
| Presenter | Anita Rani |
| Presenter | Tom Heap |
| Executive Producer | William Lyons |
| Series Producer | Joanna Brame |