Main content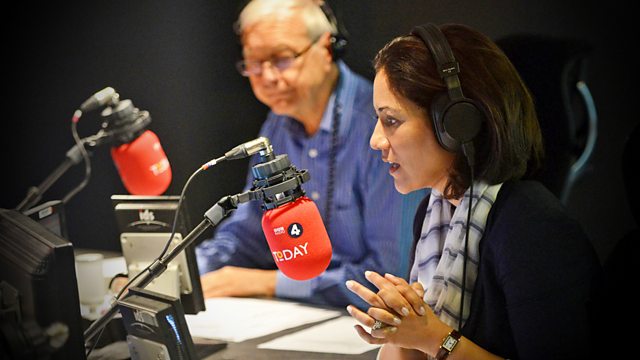 13/11/2015
Morning news and current affairs. Including Sports Desk, Weather and Thought for the Day.
Today's running order
0650
A campaign to save colonial buildings in the Indian city of Kolkata has been launched, with the British High Commission involved in the effort. Rahul Tandon is reporting.
0655
The conclusion of a report into the funding of Kids Company is that the government had no idea what it was getting in return for the more than £40 million of taxpayers money given to the charity over the past 13 years. Meg Hillier is chair of the Public Accounts Committee and Labour MP for Hackney South and Shoreditch.
0710
The United States has carried out an air strike targeting Jihadi John, the Islamic State terrorist who is thought to be the British man Mohamme Emwazi. Sarah Montague has been speaking to the Washington Post's Pentagon correspondent, Missy Ryan.
0720
The organisation responsible for setting standards of ethics and training for the police service says in future all officers must be educated to degree level. Alex Marshall is chief executive of the College of Policing and Steve White is chair of the Police Federation of England and Wales.
0730
Tomorrow the latest round of talks on how to bring peace to Syria takes place in Vienna. Our Moscow correspondent Steve Rosenberg is the first British broadcaster to be given access to the Russian air base in Syria.
0740
All schools and nurseries in the Western Isles will be closed to pupils on Friday as Storm Abigail sweeps across the UK, with gusts of up to 90mph forecast. Lorna Gordon is our correspondent in Ullapool on the North West coast of Scotland.
0750
Ministers are considering whether homeopathy should be put on a blacklist of treatments GPs are banned from prescribing, the BBC has learned. Simon Singh fought a libel battle over his book on homeopathy and is the founder of the Good Thinking Society who have been investigating this issue; Dr Peter Fisher is director of research at the Royal London Hospital for Integrated Medicine at University College London Hospitals.
0810
British people could lose access to some benefits as part of the government's EU negotiations, Whitehall officials have told BBC News. We hear form Katya Adler, the BBC's Europe editor, and live in the studio is Nigel Farage, leader of UKIP.
0820
Indian Prime Minister Narendra Modi is due to speak to 60,000 people at Wembley stadium this afternoon - a venue and crowd normally reserved for rock stars. Speaking on the programme is Jitesh Gadhia, a leading British-Indian financier and Suparna Singh, editor of NDTV.com.
0830
We are heading for a dramatic clash between junior doctors and the government, with a day planned of emergency care only on Tuesday 1 December, followed by two days when junior doctors will refuse to work at all. Speaking on the programme is Dr Mark Porter.
0840
The new President of Nigeria, Mohammudu Buhari, says he is going to crush Islamic group Boko Haram by the end of the year. Our correspondent Martin Patience has gone the heart of the territory they control.
0850
David Cameron has come under fire after writing to his local council criticising "significant cuts to frontline services". Speaking on the programme is Cllr Paul Carter, leader of Kent County Council and chairman of the County Council Network and Alex Wilde, research director of the Tax Payers' Alliance.
All subject to change.