Main content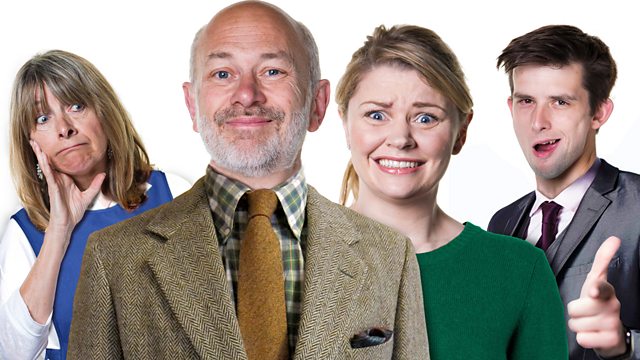 4 Extra Debut. An unexpected statistical correlation is found between eyebrows, strawberries and dangerous dogs. Stars Steve Brody. From 2015.
A sitcom set in the Office of Local and National Statistics which, depending on who you ask, is either where the real power of government resides, or the place where fun goes to die.
In this opening episode, the team uncover an unexpected statistical correlation between eyebrows, strawberries and dangerous dogs.
Meet the team:
Graham Quicks, Head of the People and Places Department of the LNS. There are three things in the world that Graham will always have faith in – statistics, the supremacy of filofaxes over computers and the idea that cardigans will never go out of style.
Audrey Carr is the Survey Researcher. She believes passionately that statistics should be used as a tool to help the man on the street. Fortunately for her, she's never actually met "the man in the street". She's also passionate about Jane Austen, Les Miserables and pretending that she doesn't work in an office with Daniel.
Daniel Porter is the Data Analyst. He used to work in the City, until the City realised he was a colossal waste of space. Daniel divides his time between manipulating statistics to further his vision of capitalism, necking energy drinks and telling people his thighs are really, really strong. He's terrible.
Mrs. Wilkins has worked as tea lady, archivist and maintenance guru for 15 years. She knows where the bodies are buried. We must stress that that is a figure of speech.
Graham Quicks ...... Vincent Franklin
Audrey Carr ...... Rebekah Staton
Daniel Porter ...... Kieran Hodgson
Mrs Wilkins ...... Julia Deakin
Special guests:
Spanner ...... Steve Brody
Candlestick ...... Phil Whelans
Terry ...... Charlie Quirke
Bookie ...... Morgan Jones
With Jo Unwin as The Narrator.
Written by Jack Bernhardt
Producer: David Tyler
A Pozzitive production for BBC Radio 4 first broadcast in November 2015.
More episodes
Previous
You are at the first episode
Credits
| Role | Contributor |
| --- | --- |
| Graham Quicks | Vincent Franklin |
| Audrey Carr | Rebekah Staton |
| Daniel Porter | Kieran Hodgson |
| Mrs Wilkins | Julia Deakin |
| Spanner | Steve Brody |
| Candlestick | Phil Whelans |
| Terry | Charlie Quirke |
| The Bookie | Morgan Jones |
| Narrator | Jo Unwin |
| Writer | Jack Bernhardt |
| Producer | David Tyler |