Main content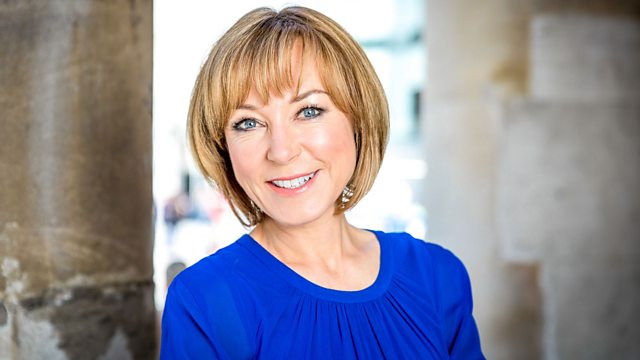 Episode 18
Sian Williams and guests discuss Britain's relationship with China, recruiting police officers from non-white backgrounds and the impact of extending Sunday trading hours.
Should Britain court China? David Cameron and Xi Jinping have hailed the dawn of a 'golden era' as the Chinese president's state visit came to an end. The high-profile trip included a warm welcome from the Queen and banquets at Buckingham Palace. An estimated £30bn worth of trade and investment deals were expected to be completed, creating jobs in energy, transport, retail and property. But the visit has not been without criticism, with various groups highlighting concerns with human rights issues in China. Protesters held placards and banners with slogans such as 'Rights over revenue' and 'People before profit'. Critics say they are concerned over increased censorship of the internet and large-scale crackdowns on human rights lawyers and activists. Does the warm welcome offered by Britain send out the message that trade and profit are more important than human rights? Or is a close relationship the best way to influence issues of human rights in China? Is Chinese domestic policy any of Britain's business? Joining Sian Williams this week are journalist and author Toby Young; broadcaster and mental health campaigner Trisha Goddard; former mayor of London Ken Livingstone; human rights campaigner Peter Tatchell.
Should the police use positive discrimination to recruit new officers? Theresa May this week said that the public will not have confidence in the police unless there are more black and ethnic minority officers. During a speech to the National Black Police Association conference, the home secretary said 'diversity profiles' showed that no force had a black and minority ethnic representation reflecting its local population. She also quoted data suggesting four forces - Cheshire, Durham, Dyfed-Powys and North Yorkshire - did not have a single black officer. After the speech, the chief constable of one of those forces, Simon Byrne, head of Cheshire, said, 'We are working as creatively as we can within the law. I still think there is an argument to be made for positive discrimination... I'm trying to recruit from a workforce that is predominantly white. Maybe an exploration of changing the legislation should be looked at.' Should the police be allowed to use positive discrimination in their recruitment? Are they a special case? Or as a vital institution should selection be based purely on merit? Joining the discussion are retired police officer Bob Ferris and Leroy Logan, chair of the Black Police Association Charity Trust.
Should there be a sacred day of rest? This weekend thousands of Jews across the UK will be taking part in the Chief Rabbi's Shabbat UK. Some say an age-old concept which promotes family values by encouraging people to switch off from their work week and spend time with family and friends is more relevant today than ever. This initiative comes as government proposals to extend Sunday trading hours are due to be debated. Some MPs and the Church of England have expressed concern: 'It is wrong in principle and wrong in policy - and it was not in our manifesto', Conservative MP David Burrowes has said. Mr Burrowes, who is leading the rebellion, claimed that the relaxation of Sunday trading hours is 'anti-family, anti-small business and anti-workers'. His sentiments match those of the Church of England which claims that extending Sunday trading would 'erode common leisure time essential for family life and shared activities such as amateur sports, community involvement and religious observance'. So should there be a sacred day of rest? Or is it up to individuals to manage their own time as they see fit?
Plus, Hardeep Singh Kohli meets star of stage and screen Maureen Lipman to talk about coping with bereavement and why she said anti-Semitism could lead her to leave the UK.
Clips

Credits
| Role | Contributor |
| --- | --- |
| Presenter | Sian Williams |
| Participant | Toby Young |
| Participant | Trisha Goddard |
| Participant | Ken Livingstone |
| Participant | Peter Tatchell |
| Participant | Bob Ferris |
| Participant | Leroy Logan |
| Editor | Kuljinder Khaila |
| Producer | Neil Dimmock |
| Assistant Producer | Cathy McMorrow |
| Production Coordinator | Caoimhe Cassidy |
| Interviewer | Hardeep Singh Kohli |
| Interviewed Guest | Maureen Lipman |