Main content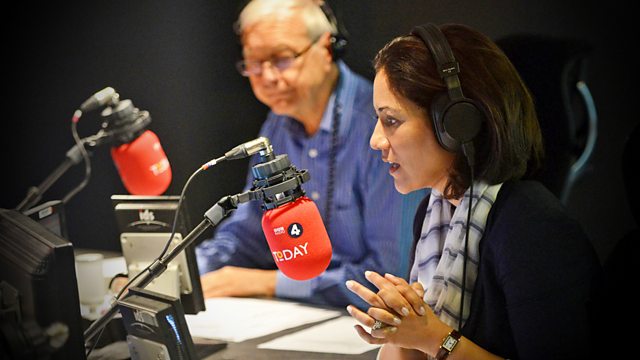 05/11/2015
News and current affairs. Including Sports Desk, Yesterday in Parliament, Weather, Thought for the Day.
Clips

Today's running order
0650
As Myanmar prepares for parliamentary elections millions of Muslims are being denied the chance to vote for candidates of their choice. Speaking on the programme is Professor Marie Lall from the UCL Institute of Education.
0655
The Legal Ombudsman service say they have had 9,000 enquiries about claims management companies in last six months, since they widened their remit to consider complaints about these companies, in addition to their previous remit. Simon Tunnicliffe is the Legal Ombudsman's Head of Claims Management Complaints.
0710
A very sudden decision was taken last night to stop flights to the Egyptian resort of Sharm el-Sheikh - so sudden that it's caused quite a lot of chaos in the resort where British holidaymakers find themselves stranded. Victoria Bacon is from the Association of British Travel Agents. 
0720
The Royal College of Surgeons of Edinburgh is today joining in the work of the Glasgow School of Art as they continue to design a digital model of the human anatomy that's claimed to be the most accurate in the world. Ian Ritchie is president of the Royal College of Surgeons of Edinburgh, and Dr Paul Chapman is acting director of the Glasgow School of Art's Digital Design Studio.
0730
The migrant crisis continues unabated – more than 200,000 migrants reached Europe by sea in October according to the UN, almost as many as the total number of arrivals in 2014. Ioannis Kasoulides is the Cypriot Foreign Minister, and Peter Sutherland is the UN Secretary-General's special representative for International Migration.
0740
A very sudden decision was taken last night to stop flights to the Egyptian resort of Sharm el-Sheikh. Janet Howe is director of the tour operator Sharm Solutions in Sharm el-Sheikh, and Kate Dodd is a British holidaymaker from Didsbury in Lancashire, currently in the resort.
0750
Elton John wants Africa to change to make life better for people who are gay, lesbian or transgender and either have AIDS or are at risk of contracting the disease. Justin Webb met the singer and Ambassador Deborah L. Birx, the US Global Aids Coordinator.
0810
The British government believes there is a significant possibility it was a bomb that brought down the Russian plane flying out of Egypt on Saturday and many thousands of British people - perhaps 20,000 - are stranded in Sharm el-Sheikh. Lyse Doucet is our chief international correspondent in Cairo; we also hear from ambassador Ahmed Abu Zeid, spokesperson for the Egyptian Foreign Ministry, and the Foreign Secretary Philip Hammond.
0820
In Mike Leigh's 1977 play, Abigail's Party, guests at a dinner party famously tried to assert their class superiority and upstage each other by dropping the names of obscure intellectuals, who they clearly knew nothing about. The play was written nearly 40 years ago, but have things changed since then? Camilla Long is a Sunday Times journalist and Thomas W. Hodgkinson is the author of How to Sound Cultured.
0830
Almost 15 years ago riots erupted in the old mill towns of Northern England, including in Oldham in Greater Manchester. The Cantle Report, set up to investigate the causes of these riots, concluded that British Asians and White British people had been living parallel lives - and that something needed to be done. David Edmonds reports on the success of one measure.
0840
The family of Ibrahim Halawa, a 19-year-old Irish man imprisoned in Egypt, is calling on David Cameron to intervene in his case. His family say he has been beaten and tortured in custody and could face the death penalty. Our reporter Tom Bateman has spoken to the jailed man's sister, Somaia Halawa, who was also arrested, but released a few months later.
0850
Two books have been published in Italy based on leaked internal Vatican documents that reveal corruption, mismanagement and waste in their finances. We hear from Austen Ivereigh, the Pope's biographer.
All subject to change.