Main content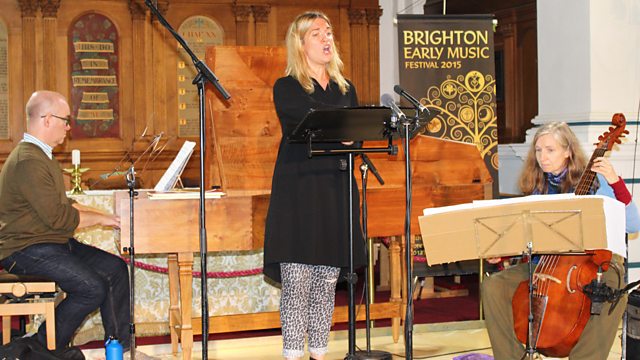 Ruby Hughes and the London Handel Players
Soprano Ruby Hughes and the London Handel Players perform at the 2015 Brighton Early Music Festival. With music by Jacquet de La Guerre, Biber, Rebel, Couperin and Leclair.
This year's Brighton Early Music Festival celebrates on a grand scale music by female composers of the past. From St George's Church Kemp Town, Brighton, Ruby Hughes takes on two dramatic solo cantatas on biblical themes by Elisabeth Jacquet de La Guerre. De La Guerre first burst onto the musical scene aged eight when she performed at the Court of Louis XIV, majorly impressing the King. These sandwich performances by the London Handel players of some of the finest and earliest examples of string sonatas, and keyboard works by the master of the keyboard Francois Couperin. Presented by Ian Skelly.
Heinrich Ignaz Franz von Biber 1644-1704
Rosary Sonata No.1 'Annunciation'
Elisabeth Jacquet de La Guerre 1665-1729
Violin Sonata No.2 in D major
Jacquet de La Guerre Cantata: Susanne
Jean-Féry Rebel 1666-1747
Violin Sonata in D major No.5 Deuxième Livre
8.15: INTERVAL: Imogen Holst: Mass in A minor
Choir of Clare College, Cambridge
Graham Ross, director
Jean-Marie Leclair 1697-1764
Violin Sonata No.8 in G major (Premier livre) for violin and continuo
François Couperin 1668-1733
Pièces de Clavecin Premier Ordre
Les Abeilles
La Nanète
Les Sentiments
La Pastorelle
Les Nonètes
L'Enchanteresse
Jacquet de La Guerre
Cantata: Judith
Ruby Hughes (soprano)
The London Handel Players:
Adrian Butterfield (violin)
Katherine Sharman (viola da gamba)
Laurence Cummings (harpsichord).