Main content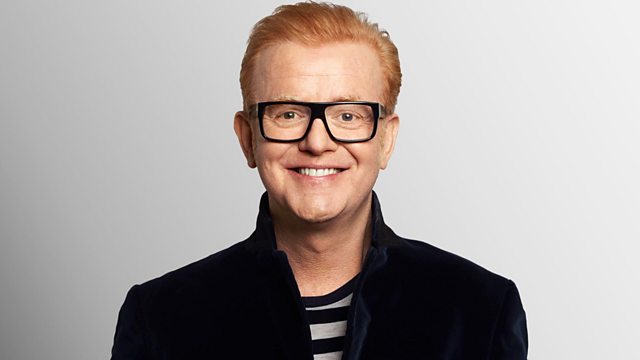 Dine and Disco Competition
Chris launches the competition to win a pair of tickets to attend Dine & Disco 2016. There's talk of roast potatoes and Chris chats to Dr Helen Czerski about the science of colour. Plus we hear claims to 'Greatest Living....' in today's top tenuous.
Last on
Music Played
Pretenders

Back On The Chain Gang

The Pretenders - The Singles.
WEA.

Adele

Hello

(CD Single).
XL Recordings.

Bob Dylan

Positively 4th Street

Bob Dylan - Greatest Hits.
Columbia.

Curtis Mayfield

Move On Up

The Old Skool Reunion (Various Artis.
Global Television.

Olivia Newton‐John

&

Electric Light Orchestra

Xanadu

Light Years - The Very Best Of ELO.
Epic.

Electric Light Orchestra

When I Was A Boy

Alone In The Universe.
Columbia.
001.

Elton John

Crocodile Rock

Diamonds.
Virgin EMI Records.

Badly Drawn Boy

All Possibilities

(CD Single).
Twisted Nerve.

Anthony Newley

Pop Goes The Weasel

Anthony Newley's Greatest Hits.
Deram.

The Stone Roses

Waterfall

(CD Single).
Silvertone.
8.

T. Rex

Children of the Revolution

Tanx + Zinc Alloy.
Edsel.
006.

Paul Weller

That Dangerous Age

The Farm

Groovy Train

True Brit (Various Artists).
Polygram Tv.

Art of Noise

Kiss (feat. Tom Jones)

Tom Jones - Greatest Hits.
Universal.
15.

Giorgio Moroder

&

Philip Oakey

Together In Electric Dreams

Our Friends Electric (Various Artists.
Telstar.

ABBA

One Of Us

Abba Gold (40th Anniversary Edition).
Polar.
016.

Coldplay

Yellow

Glorious (Various Artists).
Columbia.

The Shires

I Just Wanna Love You

(CD Single).
Decca Nashville.

Golden Earring

Radar Love

Hot Love - Sounds Of The 70's, Part 1.
Old Gold.

The Doors

Riders on the Storm

Eddie Floyd

Knock On Wood

Rediscover The 60's & 70's (Various).
Old Gold.

Fleetwood Mac

Never Going Back Again

Fleetwood Mac - Rumours.
Warner Bros.
10.
Pause For Thought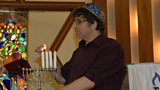 From Rabbi Pete Tobias of the Liberal Synagogue, Elstree:
Recently while watching Watford play I've been noticing similarities between my Saturday afternoon experience and the one I share with my community earlier the same morning. There are familiar rituals like the music and the presentation of the teams at the start of the game. There are the tribal symbols of coloured hats and scarves, and the familiar chants with which the majority join in.
At both venues there's a remarkable sense of community as well. In my synagogue we regularly mention those members of the congregation who are sick or who have suffered a bereavement and offer them support. And last season a Watford fan, Nic Cruwys, was horribly beaten up at an away game in Wolverhampton, and his struggle to return to health – now almost achieved – was acknowledged at every game with a minute of applause, and backed up by a fundraising campaign started by a Wolves supporter. And just a couple of places along the row where I sit there are two empty seats. Last season they were occupied by two fans, Chris Dyer and his fiancée Gina van Dort. They went on a summer holiday to Tunisia and Chris was killed in the terrorist attack, while Gina was badly injured. No amount of chanting or applause can mend that, but Chris' memory was honoured at the first game of the Premiership season.
But despite those similarities, I think that my attempt to equate football and religion ends there. Because although they both offer an opportunity to be part of a like-minded community and even allow us to indulge our basic human yearning to be part of a tribe, they ultimately have different goals.
Football's goals are pretty obvious: score more of them than the opposition. Those of religion are less clear-cut and more difficult to achieve. Perhaps the key difference is that the aim of religion is not to beat the opposition, but rather to develop and promote ways to live in harmony with it. In a world where football fans can get beaten up for supporting the wrong team or murdered by those professing to hold different beliefs, that quest for tolerance and peace is all the more necessary: a goal that's definitely worth cheering.
Broadcast