Main content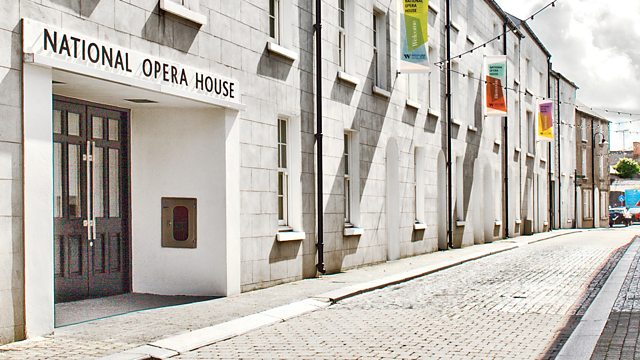 Mascagni's Guglielmo Ratcliff
Live from Wexford Festival Opera and Ireland's National Opera House, Sean Rafferty presents Mascagni's Guglielmo Ratcliff.
Live from Wexford Festival Opera and Ireland's National Opera House, Mascagni's "Guglielmo Ratcliff" in a new production of this rarely performed opera by director Fabio Ceresa.
Presented by Sean Rafferty
Mascagni was captivated by the young Scottish romantic anti-hero of Heine's play Wilhelm Ratcliff, and he began composing his opera Guglielmo Ratcliff 1882 whilst a student in Milan but set it aside in order to compose Cavalleria rusticana for a competition. He won the competition and made his name as a composer.
The role of Guglielmo Ratcliff has the reputation of being one of the most demanding roles ever written for a tenor. The opera is set in northern Scotland and is a tragic but confusing story of love and jealousy. Maria MacGregor (sung by Mariangela Sicilia) has rejected Guglielmo Ratcliff (Angelo Villari) as a husband but he is determined that she will marry no-one else.
Francesco Cilluffo conducts soloists and the Chorus and Orchestra of Wexford Festival Opera
Guglielmo Ratcliff: Angelo Villari
Maria: Mariangela Sicilia
Count Douglas: David Stout
Margherita: Annunziata Vestri
MacGregor: Gianluca Buratto
Lesley: Alexandros Tsilogiannis
Tom: Quentin Hayes
Willie: Sarah Richmond
Robin: Henry Grant Kerswell
Dick: Stephen Anthony Brown
Bell: Rory Musgrave
John: Matthew Wright
Taddie: Raffaele D'Ascanio
A Servant: Simon Chalford Gilkes
Chorus and Orchestra of Wexford Festival Opera
Francesco Cilluffo (conductor).
Synopsis
Act I
In the nineteenth century, in a castle in northern Scotland, lives MacGregor, a Scottish lord, with his daughter Maria. She is engaged to Count Douglas, who arrives at the castle having survived a murderous attack by three bandits who were driven off by an unknown horseman. Maria faints and is comforted by Margherita, a mysterious old woman in the castle who repeatedly sings part of a sad ballad. Maria's father explains that Guglielmo Ratcliff had been in love with Maria, but she rejected him and after he left Scotland she became engaged to someone else.
However, the night before their wedding her fiancé was found murdered, and later, the same fate befell another suitor. Ratcliff had sworn to take his revenge by fighting any other man Maria decided to marry and giving her as a present the fiancé's severed hand, complete with wedding ring. He had killed two men in his way and now Ratcliff's friend Lesley arrives with a note from Ratcliff challenging Douglas to a duel.
Act II
At an inn, a rendezvous for thieves and bad characters, the innkeeper, Tom, asks his son Willie to recite the Lord's Prayer. The child repeatedly stumbles over 'And lead us not into temptation', and his father sends him from the room, saying that he will end up like Guglielmo Ratcliff and the other customers. Ratcliff claims he is not a murderer; he had fought Maria's suitors in lawful duels.
He tells Lesley that Maria's rejection of him led to his compulsion to kill any other man she falls in love with. He also says that since his childhood he has had a disturbing vision of a man and woman trying, but failing, to embrace each other. He does not realise that they are the ghosts of his father and Maria's mother.
Act III
It is a dark, stormy night. Douglas arrives to fight and duel and recognises Ratcliff as the man who saved him from the bandits. He tries to thank him but his gratitude is scorned and Ratcliff challenges him to fight. Douglas calls on the spirits of Maria's two slain suitors and Ratcliff stumbles and falls. Douglas spares his life but Ratcliff sees a dream the disturbing ghostly vision of the couple unable to reach each other. Waking up, he decides to go to the castle and see Maria again.
Act IV
Maria is preparing for her marriage to Douglas, but remembers Ratcliff and the almost hypnotic way he looket her. Margherita suggests she might still be in love with him. She tells Maria the story of her mother, Elisa, who was in love with Edvardo Ratcliff, Guglielmo's father. Edvardo's violent moods frightened Elisa, so she broke off their engagement and married MacGregor. Later, Edvardo and Elisa realised that they still loved each other. When MacGregor found out, he killed Edvardo and Elisa died of grief.
From this unhappy tale we learn the full story told in Margherita's interrupted ballad. Gugielmo Ratcliff enters Maria's room covered in blood from his duel with Douglas, and begs Maria to run away with him. Confusing Guglielmo and herself with the ghosts of his father and her mother, Maria is almost persuaded and tends his wounds before realising they are Maria and Guglielmo, not Elisa and Edvardo. She asks him to leave; he flies into a rage and kills her and then murders her father, who rushes in on hearing her cries for help. Finally, Ratcliff kills himself.
Douglas arrives, horror-struck at the bloody scene, while Margherita comments that Ratcliff and Maria's corpses resemble the deceased Edvardo and Elisa. Both generations of star-crossed lovers can now know eternal peace.