Main content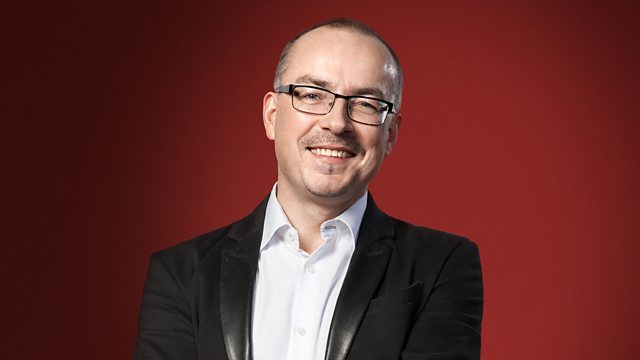 Building a Library: Berg's Violin Concerto
With Andrew McGregor. Including Building a Library: Berg: Violin Concerto; New opera releases including Wagner, Gluck and Mozart; Disc of the Week.
with Andrew McGregor
0930 Building a Library
Kate Molleson compares recordings of Berg's Violin Concerto which was written after the death from polio of 18-year-old Manon Gropius, the daughter of Alma Mahler. Berg dedicated the concerto "To the memory of an angel". It has come to be one of his most popular works.
1030
Andrew talks to Iain Burnside about a fascinating batch of new opera releases including Wagner's Das Rheingold, Gluck's Orfeo ed Euridice and Mozart's Entfuhrung aus dem Serail.
1145
Andrew chooses an outstanding recording for his Disc of the Week.
9.00am
Gabrieli in Venice
GABRIELI, G: In ecclesiis a 14; Canzon Seconda a 6; Suscipe, clementissime Deus a 12; Hodie completi sunt dies pentecostes; Jubilate Deo 10vv; Canzon Terza a 6; Quem vidistis pastores a 14 (reconstructed Hugh Keyte); Sonata XXI con tre violini; Exsutavit cor meum in Domino a 6; Surrexit Christus a 11; Canzone prima a 5; Litaniae Beatissimae Mariae Virginis; Magnificat a14
The Choir of King's College, Cambridge, His Majesty's Sagbutts and Cornetts, Stephen Cleobury (conductor)
KINGS COLLEGE KGS0012 (SACD + Blu-ray Audio budget)
Cavalli: L'amore innamorato
CAVALLI, F: L'Ormindo (excerpts); Il Giasone (excerpts); La Calisto (excerpts); L'Artemisia (excerpts); La Rosinda (excerpt)
KAPSPERGER, G.G.: Toccata Prima; La Didone (excerpts)
FALCONIERI: La suave melodia
Nuria Rial (soprano), Hana Blazíková (soprano), L'Arpeggiata, Christina Pluhar (conductor)
ERATO 2564616643 (CD + DVD)
JS Bach: Violin Concertos
BACH, J S: Violin Concerto No. 1 in A minor, BWV1041; Violin Concerto No. 2 in E major, BWV1042; Violin Concerto in A major, BWV1055; Violin Concerto in G minor, BWV1056; Violin Concerto in D minor, BWV1052
Alina Ibragimova (violin), Arcangelo, Jonathan Cohen (conductor)
HYPERION CDA68068 (CD)
9.30am Building a Library
Kate Molleson compares recordings of Alban Berg's Violin Concerto and makes a personal recommendation.
Top recommendation:
Beethoven & Berg: Violin Concertos
BEETHOVEN: Violin Concerto in D major Op. 61
BERG: Violin Concerto 'To the Memory of an Angel' (1935)
Isabelle Faust (violin), Orchestra Mozart, Claudio Abbado (conductor)
HARMONIA MUNDI HMC902105 (CD)
10.15am Reissues: l'Oiseau-Lyre box
Andrew listens again to recently rereleased recordings of music from the Classical and Romantic periods, taken from a new 50CD L'Oiseau-Lyre box set.
 L'Oiseau-Lyre: Classical & Romantic
Works by Stamitz, Boccherini, F.J. Haydn, Mozart, Beethoven, Weber, Hummel, Crusell, Krommer, Schubert, Mendelssohn, Glinka and Liszt.
DECCA 4788694 (50CD budget)
10.50am Iain Burnside on new opera releases
Andrew is joined by pianist Iain Burnside to discuss recently released opera recordings.
GLUCK: Orfeo ed Euridice
Franco Fagioli (Orfeo), Malin Hartelius (Euridice), Emmanuelle de Negri (Amor), Accentus, Insula Orchestra, Laurence Equilbey (conductor)
DG ARCHIV 4795315 (3CD mid-price)
MOZART: Die Entfuhrung aus dem Serail, K384
Mari Eriksmoen (Blondchen), Robin Johannsen (Konstanze), Maximilian Schmitt (Belmonte), Julian Pregardien (Pedrillo), Dimitry Ivashchenko (Osmin), Cornelius Obonya (Bassa Selim), RIAS Kammerchor, Akademie fur Alte Musik Berlin, Rene Jacobs (conductor)
HARMONIA MUNDI HMC902214/15 (2CD mid-price)
SCHUMANN: Das Paradies und die Peri Op. 50
Sally Matthews (Peri), Mark Padmore (narrator), Kate Royal (soprano), Bernarda Fink (alto), Andrew Staples (tenor), Florian Boesch (bass), Soloists from Guildhall School (Quartet), London Symphony Orchestra, London Symphony Chorus, Sir Simon Rattle (conductor)
LSO LIVE LSO0782 (2SACD + Blu-ray Audio budget)
WAGNER: Das Rheingold
Michael Volle (Wotan), Tomasz Konieczny (Alberich), Burkhard Ulrich (Loge), Elisabeth Kulman (Fricka), Herwig Pecoraro (Mime), Peter Rose (Fasolt), Eric Halfvarson (Fafner), Annette Dasch (Freia), Janina Baechle (Erda), Christian van Horn (Donner), Benjamin Bruns (Froh), Mirella Hagen (Woglinde), Stefanie Iranyi (Wellgunde), Eva Vogel (Flosshilde), Symphonie-Orchester des Bayerischen Rundfunks, Sir Simon Rattle (conductor)
BR KLASSIK 900133 (2CD)
11.50am Disc of the Week
Taverner: Missa Corona spinea
TAVERNER: Missa Corona Spinea; Dum transisset Sabbatum I; Dum transisset Sabbatum II
The Tallis Scholars, Peter Phillips (conductor)
GIMELL CDGIM046 (CD)