Main content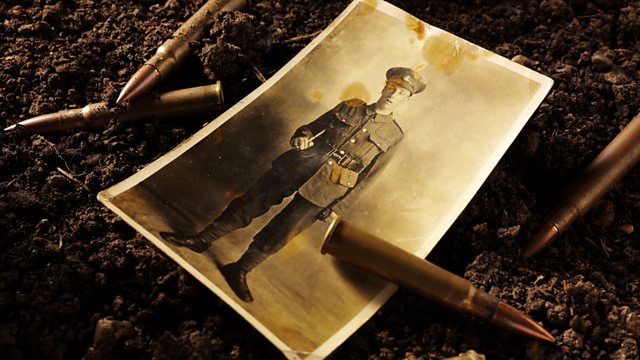 Battle of Loos
Recollections from those who fought at Battle of Loos, which was billed as 'the Big Push', but gained very little. With Dan Snow.
Before the last survivors of the First World War passed away, the memories of many of those who fought it were captured in sound recordings. Speakers recall in great detail as though it were yesterday the conditions of the trenches, the brutality of the battlefield, the experience of seeing their first casualty and hearing their first shell, their daily and nightly routines, and their psychological state in the face of so much trauma. The Imperial War Museum's holdings include a major oral history resource of remarkable recordings made in the 1980s and early 1990s with the remaining survivors of the conflict. The interviews were done not for immediate use or broadcast, but because it was felt that this diminishing resource, that could never be replenished, would be of unique value in the future. Among the BBC's extensive collection of archive featuring first hand recollections of the conflict a century ago are the interviews recorded for the 1964 TV series 'The Great War', which vividly bring to life the human experience of those fighting and living through the war. In a unique partnership between the Imperial War Museums and the BBC, the two sound archive collections are brought together for the first time in this Radio 4 series. 'Voices of the First World War', a fifty-part series which began in Autumn 2014, broadcasts many of these recordings for the first time, and will run in short seasons throughout the commemorative period, tracking the course of the war.
Presented by Dan Snow, the second five programmes to be broadcast this year look at the events of 1915, including veterans' memories of their first trips home on leave, the rise of U-Boat attacks, the disastrous Battle of Loos, and the experiences of those fighting on the Eastern Front as the war expanded, in Salonika and Mesopotamia.
The third programme features first-hand accounts from those who fought at the Battle of Loos in September 1915, from an officer who provided the wind forecasts before the release of chlorine gas by the British, to those who helped burial parties clear the battlefields afterwards, collecting and identifying the dead by night, work which had to continue for several months.
Featured in...
All this week's episodes available now.