Main content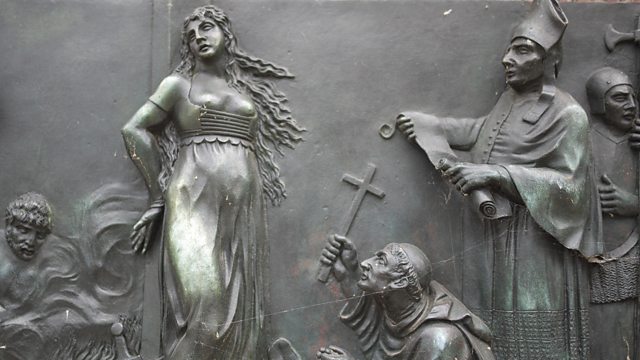 Misha Glenny explores a crucial period in France's history, when Burgundians warred with Armagnacs and the English threatened to become kings of France... until Joan of Arc arrived.
On a bridge at Montereau in northern France, two warring groups met to resolve their differences. Then in a moment straight out of Game of Thrones, supporters of one group struck the leader of the other full in the face with an axe. The kingdom was convulsed by civil war, its very existence under threat. Just four years earlier, at Agincourt, the English had won a famous victory - now the way lay open for the English king, Henry V, to claim all France as his own. And it was the murder on the bridge that made this possible. In later years, holding up the dead man's skull, a guide used to tell his audience, "Through this hole the English entered France."
In the first Invention of France, presenter Misha Glenny explores a crucial period in history, when France faced extinction ... until the arrival of Joan of Arc. With compelling contributions from Helen Castor, Anne Curry, the French ambassador in London Sylvie Bermann, Desmond Seward and Professor Francoise Michaud-Frejaville.
"This is the territory that in all these Invention programmes - about Germany, Italy, Spain and Brazil - we love to explore. How did these countries attain the shape and character they have today. In France they like to talk about l'hexagone, the hexagon; and if you look on the map that is exactly how modern France appears. But there was nothing inevitable about this strong, sturdy shape." Misha Glenny
Future programmes focus on Maximilien Robespierre and Napoleon III, le petit Napoleon.
The producer in Bristol is Miles Warde.
More episodes
Previous
You are at the first episode