Main content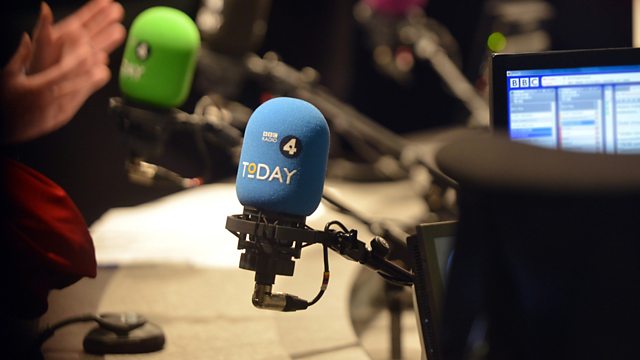 15/10/2015
Morning news and current affairs. Includes Sports Desk, Yesterday in Parliament, Weather and Thought for the Day.
Last on

Clips

Today's running order
0650
The SNP has argued for 'full fiscal autonomy' for Scotland meaning all spending would be financed by its own revenues.
Deirdre Michie is the chief executive for Oil and Gas UK.
David Phillips is a senior research economist and Scottish finance expert at the Institute for Fiscal Studies.
0655
The World Book Day Award 2016 is being launched today. It's an award partly endowed by the US author James Patterson for school libraries – the first prize is worth £10,000.
Chris Riddell is an author, illustrator and Children's Laureate.
0710
The founder of Kids Company, Camila Batmanghelidjh, will be in front of the Commons public accounts committee today, facing questions on how the charity came to collapse.
0715
Three-quarters of NHS hospitals in England are not safe enough, according to a report from the Care Quality Commission.
David Behan is the chief executive of the Care Quality Commission.
0720
The Education Secretary Nicky Morgan is expected to announce today that the first new grammar school for fifty years is to be opened in Kent.
0730
Since the SNP calculated a healthy economic future for Scotland with the help of buoyant oil revenues, oil prices have plunged.
John Swinney is Deputy First Minister for Scotland and finance secretary.
0740
Britain's oldest rollercoaster, the Scenic Railway in Margate, reopens today. It was built entirely from wood at the Dreamland theme park in the 1920s.
0750
Further analysis of the Care Quality Commission report on hospital safety (see 0715).
0810
Tesco is expected to announce plans this morning to sell off land that it had originally intended to build 15 supermarkets on.
Alan Stewart is chief financial officer at Tesco.
0820
Further analysis of the SNP conference (see 0650 & 0730).
0825
Further analysis of Britain's first grammar school in 50 years (see 0720).
Robert McCartney QC is chairman of the National Grammar Schools Association.
0835
At this time all this week we're looking at different aspects of the often secretive Kingdom of Saudi Arabia. Today we want to look at the court that surrounds the new King Salman.
Robert Lacey is an author of two books on Saudi Arabia which have been banned by the Saudi government.
0840
Further analysis of the SNP conference (see 0650, 0730 & 0820).
Alistair Campbell was Labour's communications director under Tony Blair.
Ken Clarke is former Conservative Chancellor and MP for Rushcliffe.
0845
Later on Thursday evening, sculptor Antony Gormley will unveil an English Heritage blue plaque in Hampstead to commemorate the life of the art historian E.H. Gombrich.
0850
Boy meets girl, the classic starting point for any romantic comedy.  But in the case of the critically acclaimed Channel 4 sitcom Catastrophe it's boy meets girl, meets drunken fling and an accidental pregnancy. Series one was broadcast earlier this year, series two returns later this month.
Sharon Horgan and Rob Delaney are co-writers and co-stars of Channel 4 sitcom 'Catastrophe'.
All times subject to change.
Broadcast