Main content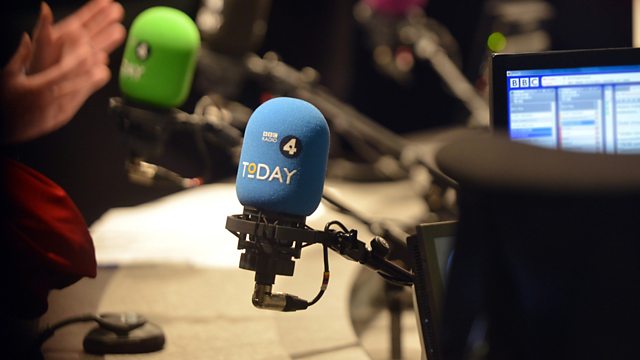 14/10/2015
George Osborne's fiscal charter is discussed, and a close family friend of murdered teenager Georgia Williams speaks to the programme. Also, Man Booker prize winner Marlon James.
Last on

Today's running order
0650
The Driver Youth Trust charity which helps children with special needs say changes to the way that support for children with special needs is organised in England has led to a fragmented system that is making it harder for parents.
0655
Academics at East Anglia University say elections are well run in this country but registering to vote is difficult and the answer is for it to be done automatically.
0710
Chancellor George Osborne is urging 'moderate' Labour MPs to rebel against their leadership and support his fiscal charter. The charter would force future governments to run a budget surplus.
Danny Blanchflower is an economic advisor to the Shadow Chancellor, John McDonnell, and a former advisor to the Bank of England Monetary Committee.
0715
The Supreme Court will rule today in the two cases brought by women who want to challenge the size of their divorce settlements, arguing that their ex-husbands had misled the court about their financial assets.
0720
Experiments being conducted on animals at some of our leading universities are flawed according to an assessment of scientific research being published today.
0730
Five contenders for the Democratic presidential nomination in the United States have held their first televised debate.  Many of the early exchanges focussed on gun control and the conflict in Syria.
0740
The Jamaican author Marlon James has won The Man Booker prize for his novel 'A Brief History Of Seven Killings.'
Marlon James is live on the programme.
0750
Jamie Reynolds tried to strangle a girl in 2008 and went on to hang 17-year-old Georgia Williams in Telford in 2013. Following a serious case review, a number of agencies jointly admitted a series of failures.
0810
Further analysis on George Osborne's fiscal charter (see 0710).
Stephanie Flanders is the chief market strategist for Britain and Europe for J.P Morgan Asset Management.
David Gauke is financial secretary to the Treasury.
0820
Further analysis of the murder of Georgia Williams (see 0750).
Chief Superintendent Gavin Thomas is the Vice President of the Police Superintendents Association.
0830
Are we seeing a shift in UK policy towards Saudi Arabia?
Sir Alan Munro is director of the Arab British Chamber of Commerce and was an ambassador to Saudi Arabia 20 years ago.
Baria Alamuddin is foreign editor of the Arab Al-Hayat newspaper.
0840
10 years ago, Patient WO went to the dentist for routine surgery and hasn't been able to remember anything since. Scans of his brain show no damage and there is seemingly no psychological explanation.
0845
Sir Michael Graydon, the Chief of Ari Staff during the 1990s, says there's a shortage of staff across the armed forces and the government needs to do be more creative in recruiting new personnel.
Sir Michael Graydon is live on the programme.  
0850
JR, the semi-anonymous street artist, sometimes referred to as the 'French Banksy', is the youngest ever winner of the TED Prize. The title of his new book asks the sweeping question 'Can Art Change the World?'
JR is live on the programme.
All times subject to change.
Broadcast