Main content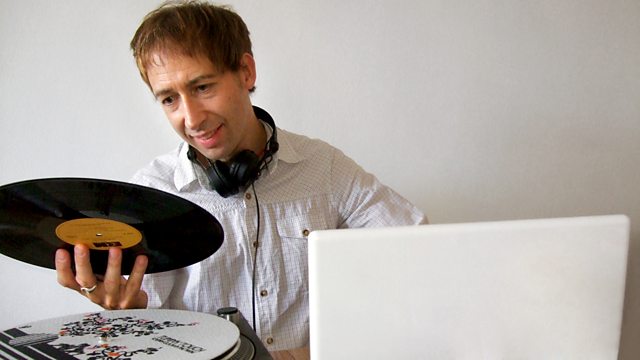 Masayoshi Fujita and Guy Andrews
Nick Luscombe presents a special collaborative session featuring Masayoshi Fujita and Guy Andrews. Plus music from Eddie Palmieri, Mark Hollis and by Rameau.
The Late Junction Collaboration Session returns as Berlin-based vibes innovator Masayoshi Fujita meets for the first time electro-music producer Guy Andrews. Listen live and download the podcast throughout November. Plus, Nick Luscombe plays Latin grooves from Eddie Palmieri, a solo track from Talk Talk's Mark Hollis and harpsichord music by Rameau
The Collaboration Sessions put two artists who haven't worked together before in the BBC's famous Maida Vale studios - the former ice-rink where Bing Crosby made his last recording. The resulting spontaneous recordings are broadcast on Late Junction, available for one month to download as a podcast and in some cases have led to a continuing projects between the artists.
Masayoshi Fujita is a Japanese vibraphonist and composer based in Berlin who first learned drums, followed by extensive vibraphone training to craft and play his own, mostly jazz and electronic-influenced compositions.
Determined not to stick to traditional vibraphone styles or techniques, Masayoshi started to prepare his instrument with pieces of metal, strips of foil and other objects in the search for new possibilities with the instrument. The resulting new sounds help to expand the vibraphone spectrum without eroding the instrument's intrinsic character.
'Apologues', his new release with Erased Tapes, was lauded by Pitchfork as 'Melodic constellations so impeccably gorgeous that they ache.'
Guy Andrews is a London based musician and music producer who is best known for creating textural electronic music, which combines an array of influences from post-rock, techno, ambient and afrobeat inspired genres. Fans and collaborators include Massive Attack, Mary Anne Hobbs, and Scuba. March 2016 sees his debut release on the Houndstooth label.
Last on
Music Played
Eddie Palmieri

La Malanga

Superimposition.
Tico Records.
1.

Broshuda

I Never Had A Sega

Outlines.
Sonic Router Records.
8.

Stargaze

&

Greg Saunier

Data

DEERHOOF CHAMBER VARIATIONS.
Transgressive.
2.

group A

Yami -Saitei No Taisei-

Donato Dozzy

Personal Rock

The Loud Silence.
Further Records.
1.

Jean‐Philippe Rameau

Premier Concert: La Livri (Pour Clavecin Seul)

Performer: Christophe Rousset.

Pièces De Clavecin En Concerts.
Harmonia Mundi.
2.

Guy Andrews

&

Masayoshi Fujita

Late Junction Session: Masayoshi Fujita and Guy Andrews: Needle Six

Vera Bila & Kale

Ma Dza Nikhaj

Queen Of Romany.
GiG Records.
9.

Katy Carr

Bomba

Polonia.
Deluce Recordings.
5.

Thomas Meadowcroft

Cradles

Klara Lewis

&

Klara Lewis

CATT

Tom Szirties and Ali Tocher

Veil

Anoushka Shankar

Guru: Raga Jogeshwari - Jod, Jhala
Broadcast