Main content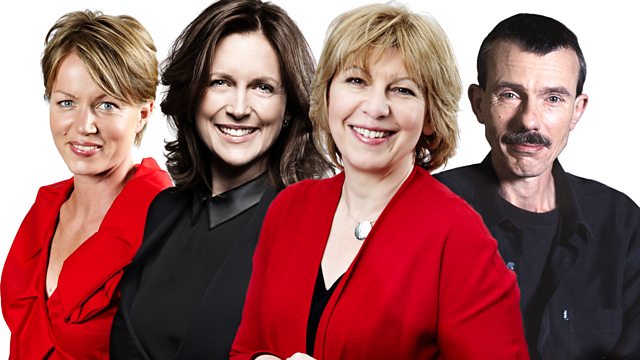 Purcell - Dido and Aeneas
Penny Gore presents Purcell's Dido and Aeneas directed by Christina Pluhar from the 2015 Utrecht Early Music Festival. Plus works by Bliss and Vaughan Williams.
Penny Gore presents today's Thursday Opera Matinee; a performance of Purcell's Dido and Aeneas from the Utrecht Early Music Festival. Based on Virgil, the opera tells of the love between Dido and Aeneas which comes to a tragic end when a socrceress incites Aeneas to abandon Dido. Christina Pluhar directs L'Arpeggiata, and Mariana Flores and Marc Mauillon sing the doomed lovers. Plus more from this week's featured ensembles - the BBC Symphony Orchestra and BBC Singers with music by Bliss and Vaughan Williams.
2pm
Purcell
Dido and Aeneas
Dido ...... Mariana Flores (soprano)
Aeneas ..... Marc Mauillon (baritone)
Belinda ..... Céline Scheen (soprano)
L'Arpeggiata
Christina Pluhar (director)
c.3.30pm
Bliss
Hymn to Apollo
BBC Symphony Chorus
BBC Symphony Orchestra
Andrew Davis (conductor)
Richard Blackford
Oboe Concerto
Emily Pailthrope (oboe)
BBC Symphony Orchestra
Martyn Brabbins (conductor)
c.3.55pm
Gorecki
Audi clamantes, audi plorantes (Church Songs)
BBC Singers
David Hill (conductor)
c.4pm
Vaughan Williams
Mass in G minor
Olivia Robinson (soprano)
Margaret Cameron (contralto)
Robert Johnston (tenor)
Stephen Charlesworth (baritone)
BBC Singers
Richard Pearce (conductor).
Music Played
Opera Matinee

BBC Symphony Orchestra & BBC Singers
Synopsis
ACT 1
Surrounded by the attendants in her court, Dido, Queen of Carthage, is inconsolable. Her handmaiden, Belinda, tries desperately to cheer her up, but Dido is depressed, saying that she and peace are nothing more than strangers now. Belinda suggests to Dido that finding love will cure her grief, and recommends marrying Aeneas, a Trojan who has shown interest in her. Dido fears that falling in love will make her a weak ruler, but Belinda points out that even great heroes find love. When Aeneas enters Dido's court, Dido still has reservations and greets him coldly. But eventually, her heart warms up to him, and she accepts his marriage proposal.
ACT 2
Deep within a cave, an evil sorceress crafts a plan to bring destruction and calamity to Carthage and its queen, Dido. She calls in her apprentices and divulges her evil plot with instructions for each of them to carry out and execute. Her most trusted elf will disguise himself as the god Mercury in order to tempt Aeneas into leaving Dido. She knows that Dido would be so grief-stricken, she would die brokenhearted. A group of witches carefully listen to the sorceress and cast a spell to bring a severe thunderstorm that will interrupt Dido and her hunting party as they rest in a peaceful forest grove.
Dido and Aeneas, along with their hunting party, stop within a forest grove to rest after spending most of the day hunting. Belinda orders the servants to prepare a picnic for the royal couple using the game that was hunted earlier. As preparations are made, Dido hears thunder rolling in from the distance. Belinda immediately halts the hustle and bustle of the servants and orders them to pack up so that they can make it back to shelter before the storm arrives. After everyone leaves the grove, Aeneas stays behind to admire the grove's beauty. He is approached by the evil elf disguised as Mercury. Mercury instructs him that he must depart Carthage immediately and set sail to Italy in order to establish a new city of Troy. Believing the word of a "god," Aeneas obeys Mercury's command despite feeling remorse for having to leave Dido behind. After their conversation, Aeneas heads back to the palace to make his departing arrangements.
ACT 3
A fleet of Trojan ships are being prepared by Trojan crewmen. Not long after, the evil sorceress and her apprentices appear to monitor their plan's progress. They are quite pleased to learn that they have been successful. The sorceress announces the next step in her evil machinations: Aeneas's ship will meet its doom while sailing on the ocean. The evil beings laugh in merriment and join one another in a dance.
Back at the palace, Dido and Belinda are unable to find Aeneas. Dido is overcome with dread. Belinda, to no avail, tries her best to console her. When Aeneas arrives, Dido voices her suspicions about his absence. Aeneas confirms, but tells her he will defy the gods and stay with her. Dido rejects him, unable to forgive his transgression against her. He was willing to leave her, and despite his resolution to stay with her now, she cannot accept it and orders him to leave. Dido's grief is too great, and she knows she will never recover. She gives in to fate's cruelty and resigns herself to die. In the passing moments, Dido gives in to death, and once departed, roses are scattered at her grave.